DIANA DAUPHINE Hotel
Back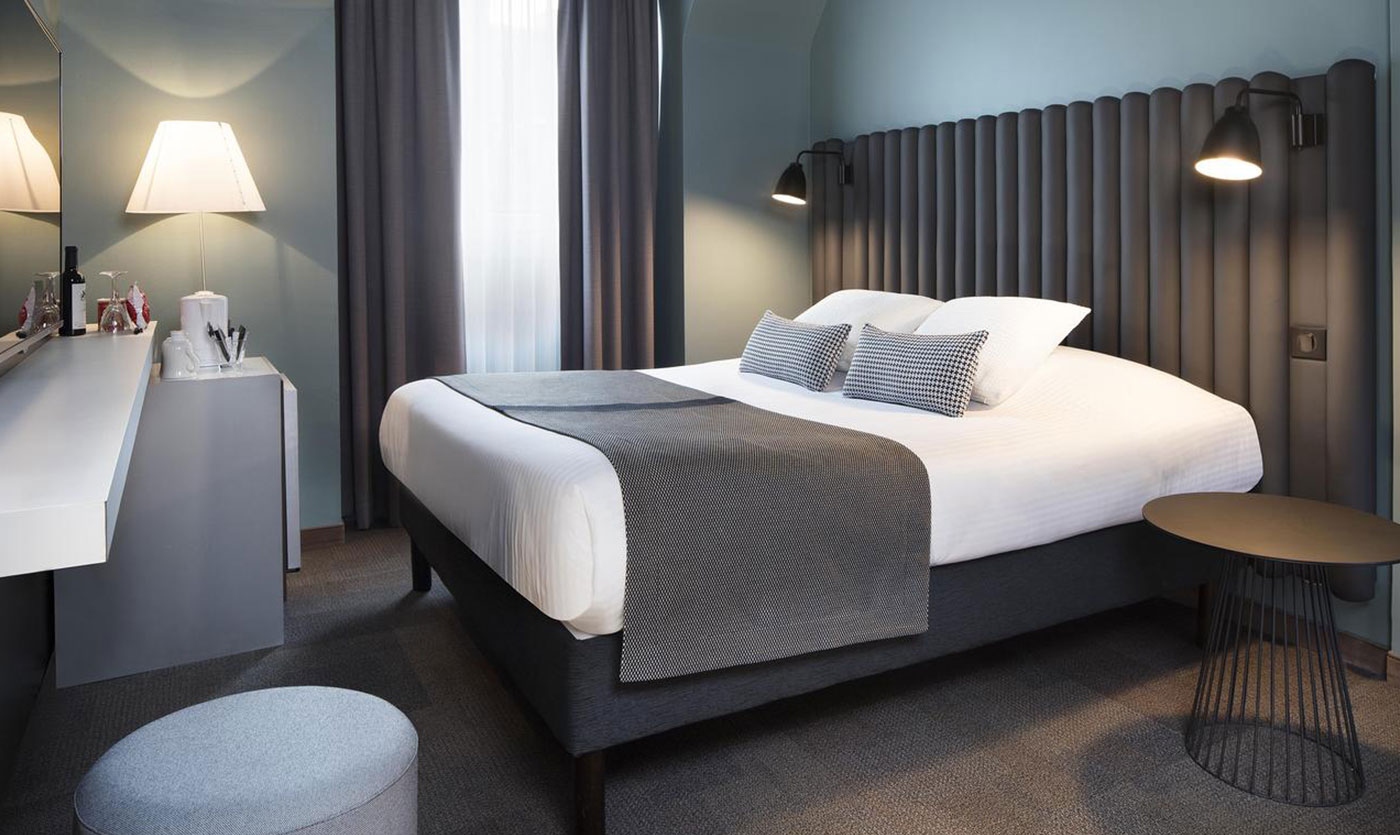 Collinet Headboards for the Diana Dauphine Hotel in Strasbourg
Mar 28, 2019
In the heart of Strasbourg, only a few steps from the famous cathedral and the quaint neighborhood "La Petite France", you can find the magnificent Diana Dauphine hotel. This high class establishment, imbued with a resolutely modern atmosphere, has enlisted the help of Collinet to create outstanding hotel rooms. Enjoy the perfect getaway in Strasbourg at the Diana Dauphine Hotel!
Exceptional hotel rooms for a unique moment
This 4 star hotel welcomes you in a warm and quiet atmosphere. This charming place will delight you with its elegant hotel rooms. But what makes the rooms of the Diana Dauphine hotel such an exceptional achievement? A modern ambiance that will surely fill you with wonder!
Welcoming and with all the amenities, the hotel rooms of the Diana Dauphine have been recently renovated by the architects Benjamin Lestrat and Thomas Gibert from the Frog Architecture agency based in Strasbourg, in order to provide you with all the comfort that you deserve. In order to create the perfect atmosphere for relaxation and well being, these experimented interior designers have enlisted the help of Collinet to upscale the look of the hotel beds of both standard and executive hotel rooms of this luxurious establishment.
The bedding is therefore elegantly completed with the custom hotel headboards created by Collinet. Created from noble materials such as wood, leather, delicate fabrics, the custom Collinet headboards add a luxurious touch to the hotel rooms of the Diana Dauphine Hotel. Whether they are padded, quilted or smooth, the different finishes of the headboards bring a unique style that will surely delight you!
Modern furniture pieces, the most comfortable of mattresses and custom Collinet headboards: these are some of the many elements that will invite you to enjoy a quiet moment in the rooms of the Diana Dauphine Hotel! No detail has been spared to create a unique atmosphere. Enjoy you fully-relaxed stay at the Diana Dauphine 4 star hotel!
Practical Information:
Address:
30 rue de la 1ère armée
67000 Strasbourg
Contact:
Phone: +33 3 88 36 26 61
Email: info@hotel-diana-dauphine.com
Website: Hôtel Diana Dauphine