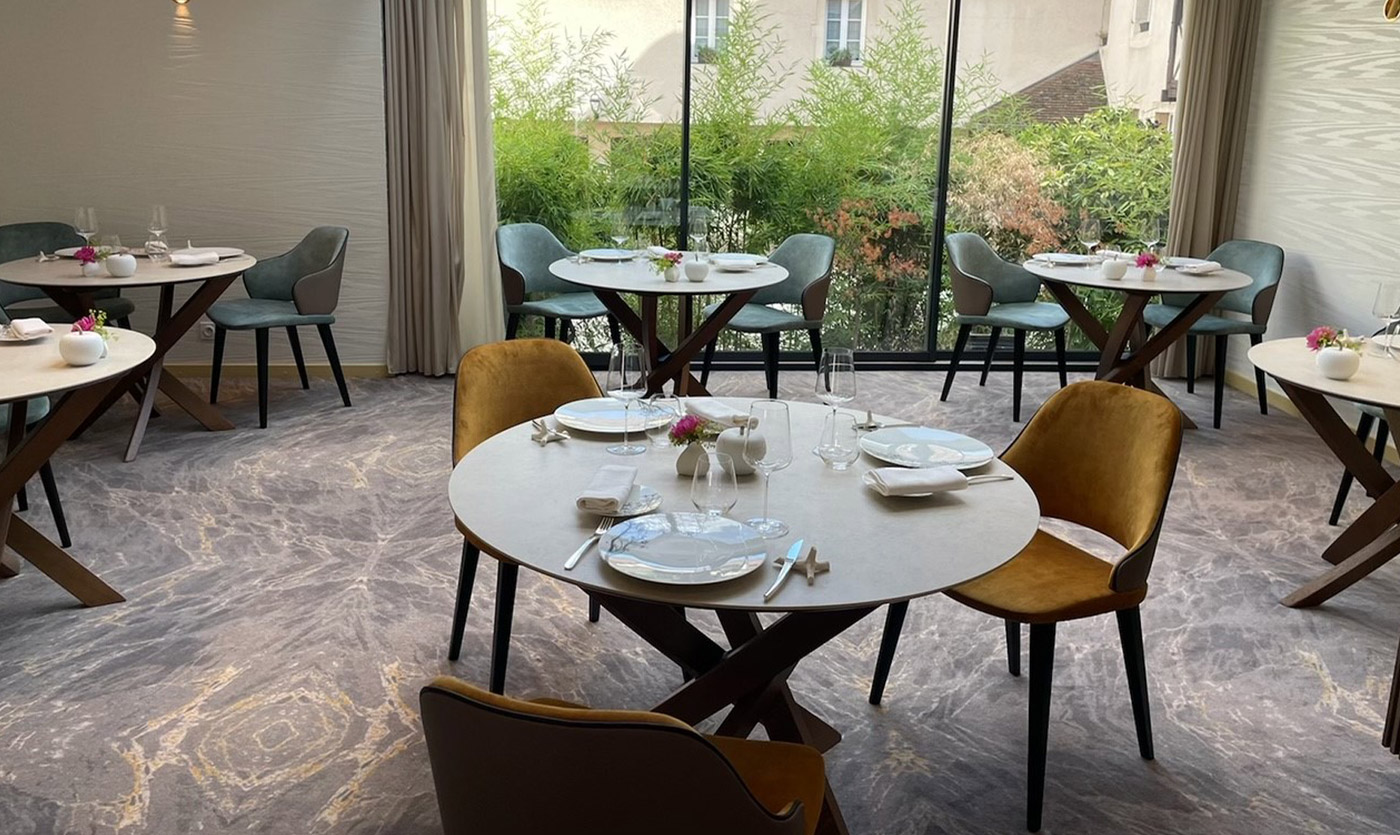 Origine combines a culinary experience with a sophisticated room atmosphere
Feb 15, 2023
The alliance of local gastronomy and worked furniture
In the heart of the Burgundy capital, the Origine restaurant delights its guests' taste buds with an exceptional culinary experience. The starred chef uses flowers, mushrooms and seasonal vegetables for a dish full of flavor. The Collinet furniture takes part at this moment of tasting by the elegance of the decoration worthy of this "city of art and history". The keywords of this renowned establishment are: audacity, flavors and quality products.
The starred chef Tomofumi Uchimura succeeds in taking his guests into a culinary universe of great creativity. Born in Japan, the chef's cuisine is an ode to France, where he trained with three-star chefs. Menus in several courses are offered: gourmet, vegetal and local or truffle. If you'd like to visit at lunch, a surprise lunch awaits.
This local gastronomy can be enjoyed comfortably on designer chairs. The restaurant room gains in elegance thanks to the noble wooden chair, with its solid wood structure, and more specifically in beech wood structure. The armchairs in the common areas, with their comfortable armrests, invite you to relax. To complete your visit, the chef comes to the table and the sommelier guides you in your choice. Origine is a unique place for gustatory pleasures.
Maison Collinet takes care of the choice of furniture for restaurateurs
Like the Origine establishment, which welcomes you with conviviality, Maison Collinet takes pleasure in offering a wide choice of quality, French-made furniture. The professionals of the restoration are thus accompanied for the installation of their bar-restaurant. The catalog offers a range of furniture for different types of establishments: brasserie, patio, hotel restaurant, bistro, reception room and cafés. Each professional will be able to personalize his interior decoration with the furniture of his choice. For the restaurant Origine, Maison Collinet has combined several ranges of furniture. Thus, it is possible to find in the establishment the bridges chairs Nog, then the comfortable armchairs Aurea and Humilis with their choice of covers.
The search for a precise atmosphere, created by Collinet furnishings
Collinet is an expert in the design of interior furniture as a manufacturer of contemporary restaurant furniture. Hotel and restaurant professionals can rely on the work of designers who take care of every detail of the interior furniture, right down to the finishing touches. Thus, the chairs and armchairs, the restaurant table, the eating stand, so to speak all the restaurant furniture will be sublimated to leave nothing to chance. At the bar, the contemporary stool brings its effect for a place dedicated to conversation. Around a table or in sofas with upholstered seats close to a coffee table, the lighting is combined with the restaurant furniture to create a very specific atmosphere.