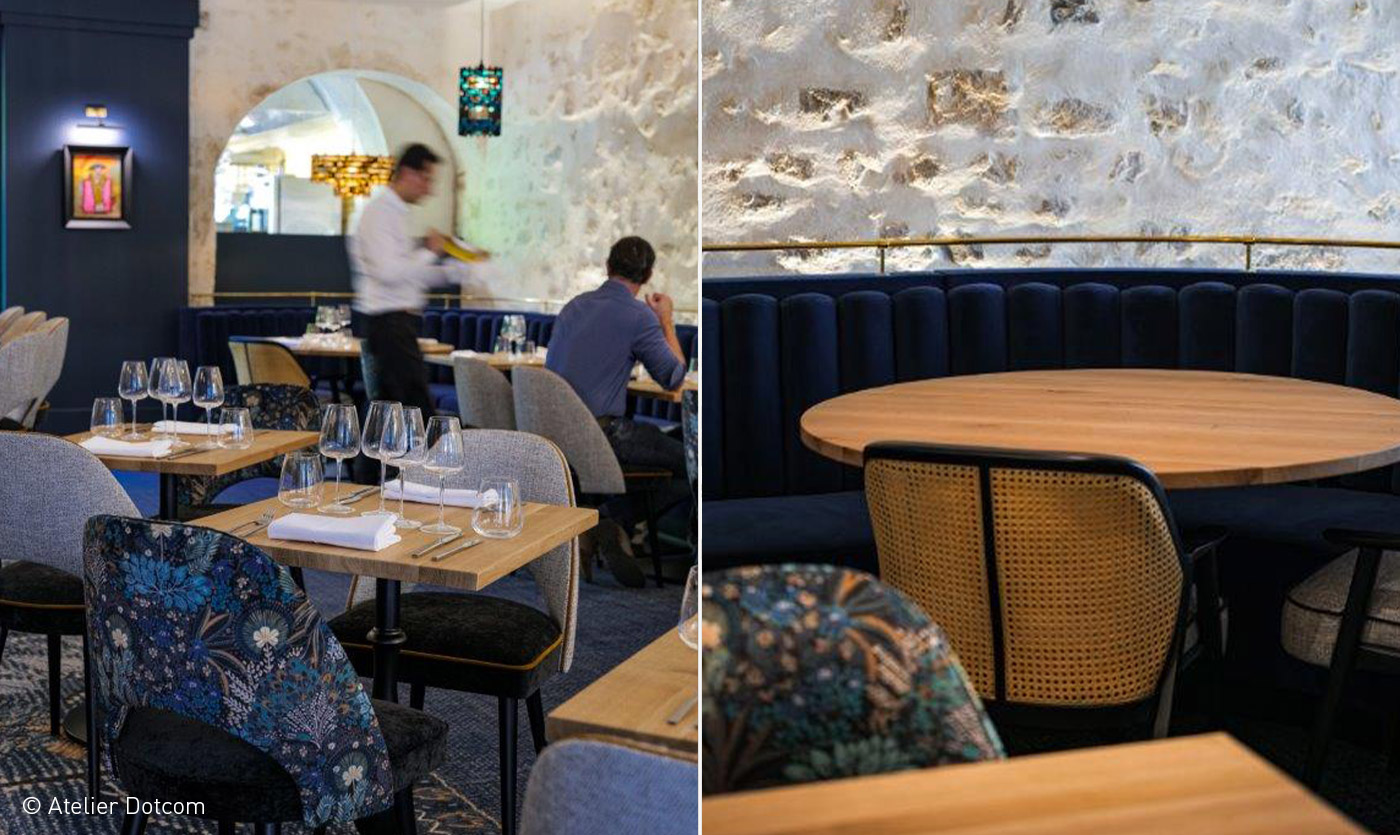 Dive into the oriental atmosphere of the Arco restaurant, a design project by Collinet
Jan 18, 2023
RENDEZ-VOUS UNDER THE ARCADES OF THE RUE DU MINAGE IN LA ROCHELLE
The Arco restaurant is located in the historic rue du Minage, in the heart of downtown La Rochelle. Located in the former seminar room of the Maison des Ambassadeurs hotel, it offers world cuisine inspired by the travels of French diplomat Albert Bodard.
Customers appreciate the quality of the menu, creative and exotic. But they also notice the trendy and friendly decoration, the result of the collaboration between Améo Group, a designer specialized in the hotel and restaurant business, and Maison Collinet, a manufacturer of high-end professional furniture. We offer a wide range of design furniture: tables and chairs, sofas, ottomans, benches... Quality furniture with a contemporary style, which allows to fit out professional spaces.
A DECORATIVE PROJECT THAT MIXES MODERN AND ORIENTAL INSPIRATIONS
The challenge of this unique design project is to reflect the restaurant's oriental cuisine in the decoration. To meet this challenge, the Améo Group and Maison Collinet have opted for designer furniture that flirts with exotic influences.
The emphasis is on the quality and comfort of the furniture. Bar stools, chairs and armchairs are warmly colored and have clean lines. The solid wood dining tables are finished to a high standard. The duck blue velvet banquettes flanked by brass hats add a luxurious touch to the ensemble.
The historic architecture of the establishment, which features a Charentaise stone arch, is enhanced by deep colored lighting and upholstery. The whole has a strong and unique character.
THE COLLINET SIGNATURE
The Maison Collinet invites itself into the Arco restaurant through high-end interior furniture. Combining design and comfort, the Scala chair and the Scala stool combine textile and wood for a modern result. They offer a high degree of customization, which allows them to fit perfectly in the dining room.
The Kan wicker armchair combines Scandinavian style with oriental influences. A real jewel of design! Finally, the Liberty table, made of solid beech wood and painted in creamy white epoxy, brings a touch of sophistication with its classic curves. The quality of the materials and finishes are perfectly suited for professional use.
Practical information :
Address : 43 rue du mirage, 17000 La Rochelle
Decorator : Améo Group
Website : https://www.restaurantarco.com/