LOGIS DE LA CHABOTTERIE
Back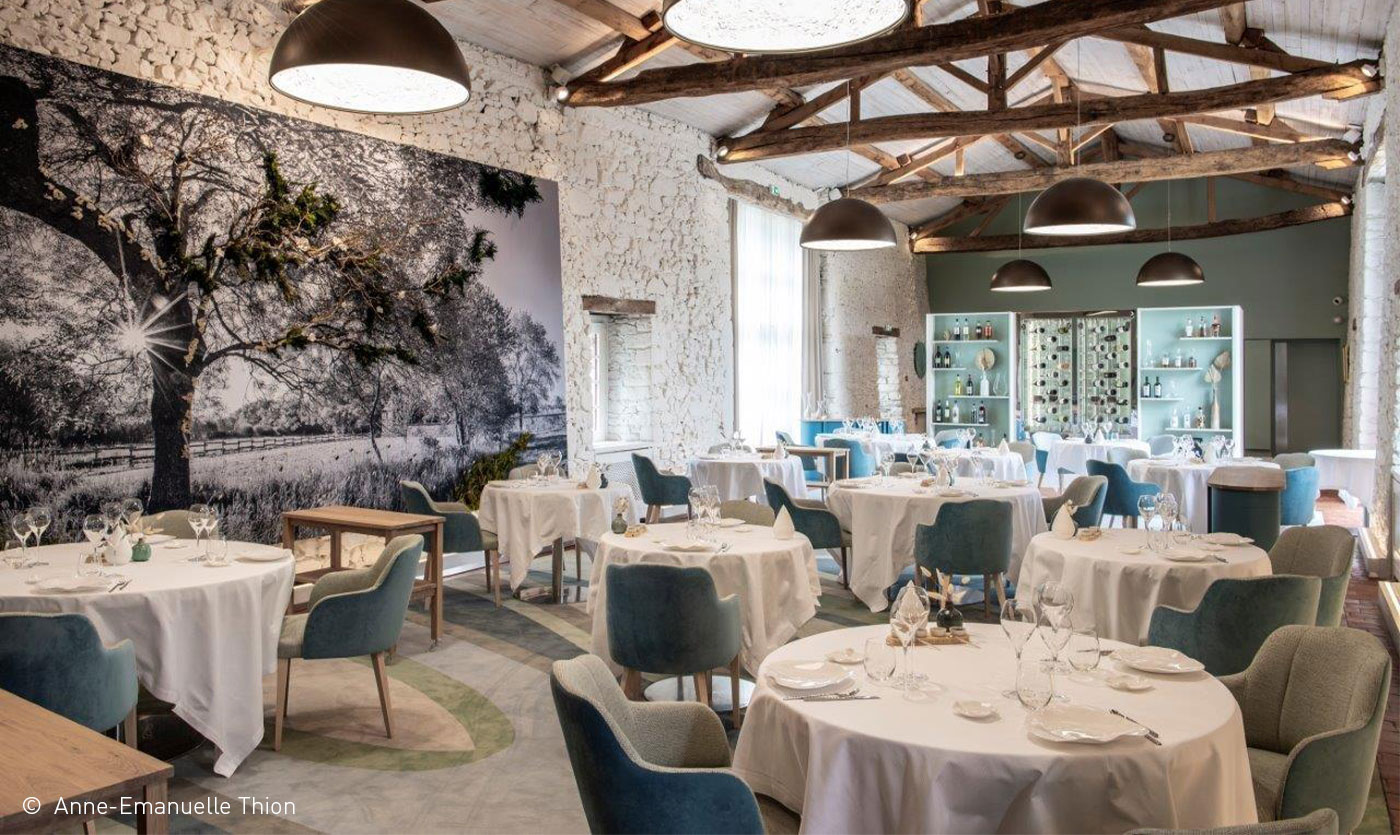 MAISON COLLINET MAKES HISTORY IN THE VENDÉE REGION
Jun 28, 2022
To renovate the restaurant of the Logis, the interior designer Frank Pothier chose a vast set of furniture from the large collection of Maison Collinet, specialist in professional French-made furniture. Every piece, with an intuitive ergonomics and inspiring aesthetics, brings something to the table. Thanks to its high-quality workmanship and personalized choice of colours, the Collinet furniture fits perfectly into this historic setting. Design chairs and tables convey a feeling of relaxation and sharing, while bringing a certain voluptuousness to an atmosphere that is both traditional and modern.
A CONTEMPORARY DESIGN FOR A PLACE OUT OF TIME
By booking a table, you will have the opportunity to savour the delicious dishes prepared by the chef while enjoying the comfortable seats of the Candide armchairs and several models of the Vita collection. The interior designer uses soft shades of blue and green that enhance the character of the place. Thanks to its elegant lines and neat finishes, the Collinet furniture creates an intimate, luxurious yet expansive look with decorative finesse. The combination of unique architecture and opulent interior designs allows for guests to enjoy an exceptional setting and an intimate atmosphere while eating.
Through a subtle and elegant layout, the harmony is perfect between the traditional materials of the farmhouse – stone and wood – and the contemporary decoration, whose delicate correspondences create a feeling of deep serenity. All the furniture and the various Scandinavian-style fittings communicate a feeling of well-being and harmony. A precious and timeless place, the Logis de la Chabotterie offers an exceptional setting carefully enhanced by elegant furnishings. With their unique design, the Collinet furniture sublimates the ambiance of this sumptuous decor.
The Logis de la Chabotterie is an authentic charm of a manor from the historic XIV century Vendée With its gardens and its parks, the Chabotterie domain, has 48 hectares of discovering waiting for you.
Photograph : Anne-Emanuelle Thion
Coordinates
Address : Saint Sulpice le Verdon, 85260 Montréverd
Phone : +33 (0)2 28 85 77 00