Château Soutard restaurant
Back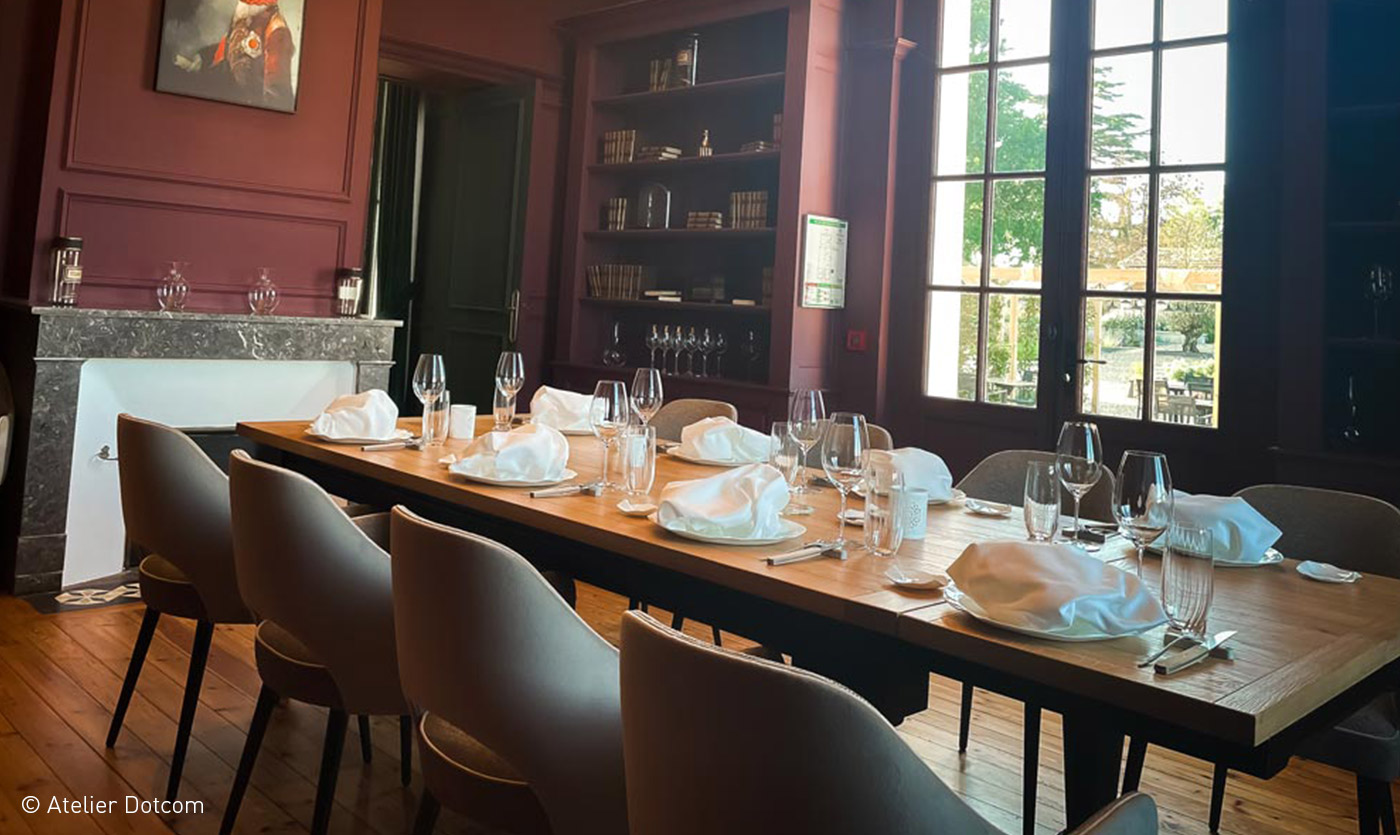 Château Soutard dresses up as Collinet
Jan 18, 2023
AN ESTABLISHMENT STEEPED IN HISTORY
Château Soutard is located in the heart of the limestone plateau of Saint-Émilion, a stone's throw from the medieval village. A former mansion dating back to the 18th century, the establishment boasts exceptional historical architecture. An ideal setting for the development of the Grands Crus Soutard, Larmande and Grand Faurie La Rose, still vinified in their original cellars.
Wine lovers who wish to discover the region can also stay at the heart of the wine estate, which houses three bedrooms and a dining room. A true case of calm and tranquility to recharge your batteries between two visits in the Libourne region.
A RENOVATION THAT COMBINES AUTHENTICITY AND MODERNITY
Château Soutard is a vast estate offering a myriad of possibilities for development. It includes a wine farm, a wooded park, a restaurant, lounges and cosy rooms, a library and a meeting room.
Architect Fabien Pédelaborde was responsible for the renovation of the exterior and interior spaces in the early 2010s. The challenges of this project? To modernize the spaces while respecting the historical heritage of the establishment. Later, the furnishing of the restaurant was entrusted to Groupe Améo, a designer specialized in hotels, and to Maison Collinet, a manufacturer of professional design furniture.
A DESIGN AND FUNCTIONAL FURNITURE
Collinet, a specialist in interior and exterior furniture, worked to create a luxurious and comfortable space. It is not enough to choose designer furniture: it must also meet the quality of the hotel and restaurant services of the establishment.
Therefore, the modern, contemporary or classic style of our creations is adapted to an intensive use. The materials are noble: solid wood, rattan, stainless steel, aluminum, velvet... The alternation between modern elements and period decoration helps create a timeless atmosphere. A marriage that will seduce an informed and demanding clientele.
The Scala armchair charms with its clean lines and Scandinavian-inspired design. Made of solid beech wood, it offers a wide range of finishes and colors, which will fit perfectly in the castle room. As for the Liberty dining table, it is inspired by period furniture while modernizing it with its creamy white epoxy paint. A refined and soft marriage.
Practical information :
Address : Petite Faurie, 33330 Saint Emilion
Website : www.chateau-soutard.com
Decorator : Améo Group