Château Clos de la Ribaudière
Back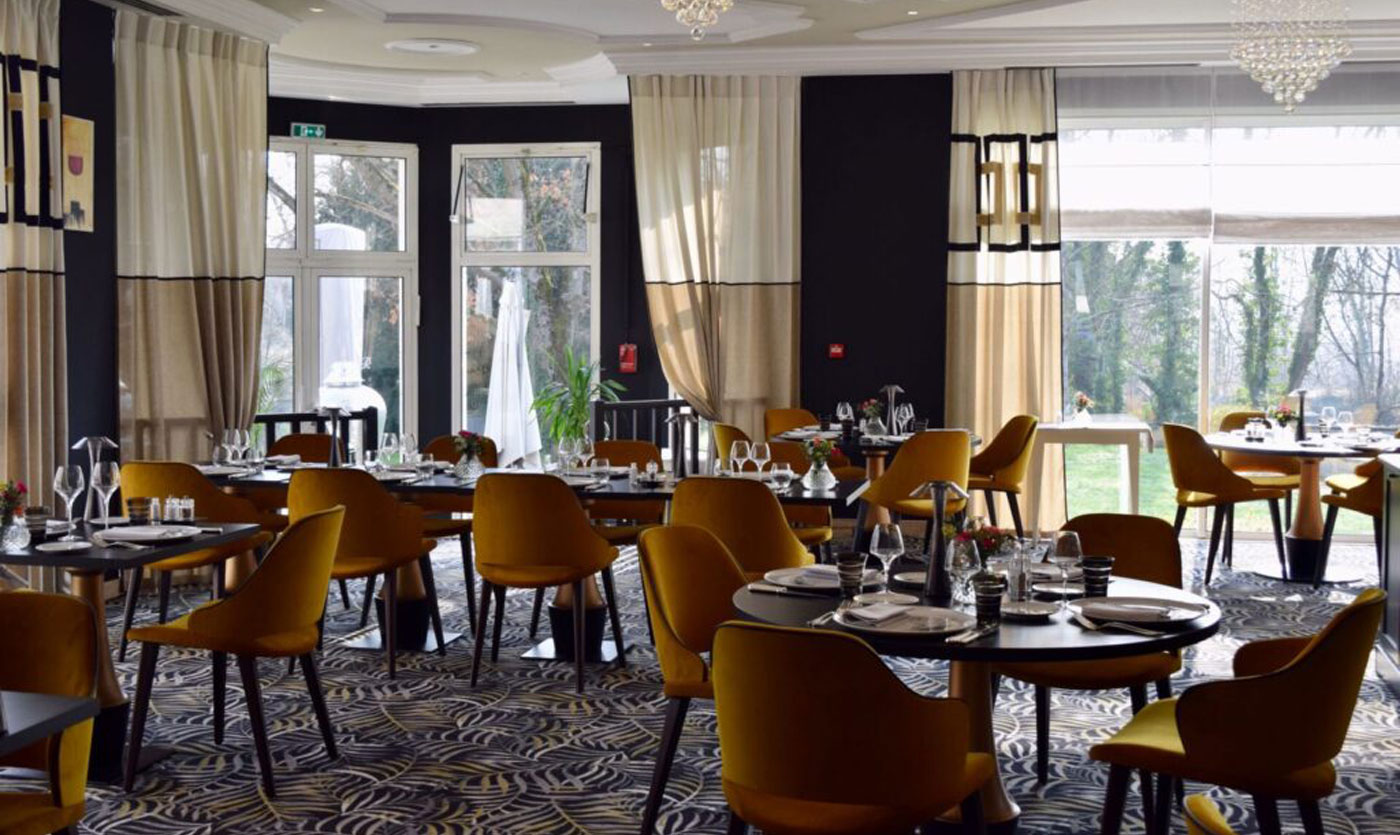 Collinet contributes to the transformation of the luxurious interior of the Château du clos de la Ribaudière
Jul 13, 2023
A sumptuous setting for an unforgettable gastronomic experience
The restaurant at Château du clos de la Ribaudière is a must-visit destination for epicureans in search of a unique gastronomic experience. The new interior decoration of the restaurant, enhanced by Collinet furniture, helps create an elegant and warm atmosphere. The Nog chairs and Nog armchairs in stained varnished wood colors, as well as the Pion tables, blend perfectly with the noble materials such as wood and leather that make up the restaurant's décor. This magical display of warm colors adds a contemporary touch to the whole while respecting the traditional spirit of the castle.
As for the menu, the chef and his team offer inventive and refined cuisine based on local seasonal products. The dishes are enhanced by a selection of prestigious wines from the best French terroirs. The flavors are rich and subtle, and the presentations are meticulously crafted.
The excellence of hospitality at Château du clos de la Ribaudière
The hotel is an enchanting place that invites relaxation and escape. With its 41 spacious and elegant rooms, this establishment offers a high-end hospitality experience. The rooms are tastefully decorated in a classic and contemporary style. The services offered by the hotel will meet your expectations: a relaxing spa to recharge your batteries and an outdoor swimming pool to cool off on sunny days. The staff is attentive to the needs of each client and is at your disposal to ensure an unforgettable stay.
The region surrounding the Château du Clos de la Ribaudière is full of historical sites and places of interest to discover. Among the must-sees, we can mention Futuroscope, a famous high-tech amusement park, as well as the city of Poitiers, with its rich medieval history and majestic Notre-Dame-la-Grande cathedral. History enthusiasts can also visit the Château de Chambonneau and the Château de la Mothe-Chandeniers, two jewels of French architecture located near Clos de la Ribaudière.
Whether for a romantic weekend getaway, a family vacation or a business trip, the hotel at Château du clos de la Ribaudière will offer you an extraordinary experience. Come and discover this prestigious establishment and let yourself be carried away by its enchanting setting and refined service.
Practical Information:
Address: 10 rue du champ de Foire, 86360 Chasseneuil du Poitou
Phone: +33 5 49 52 86 66
Website: Château du clos de la Ribaudière