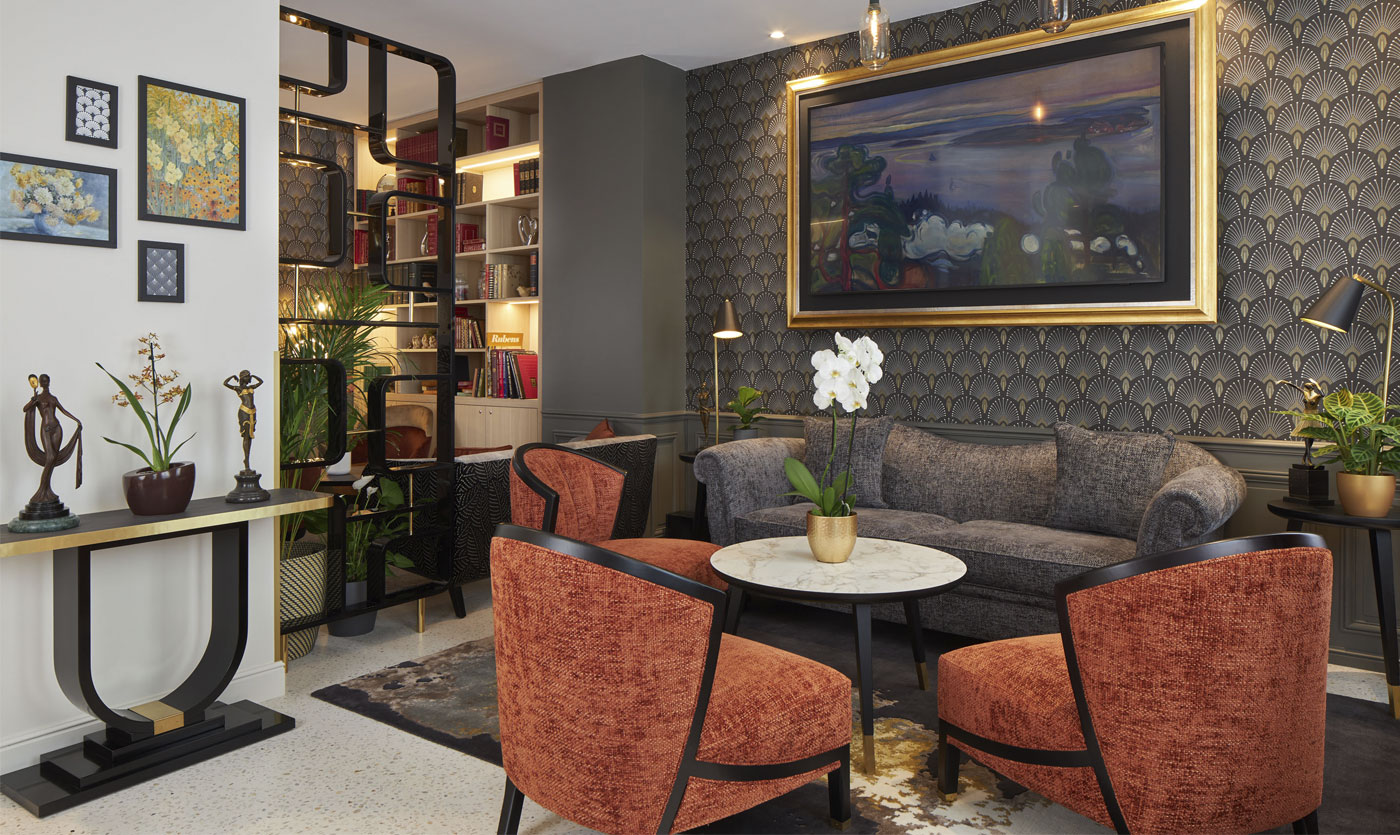 Villa Romantic, pure Parisian elegance, chooses Maison Collinet
May 12, 2023
A 4-star hotel that combines luxury and refinement in the heart of Paris
Villa Romantic hotel is a true gem of luxury hospitality located just a stone's throw from the Latin Quarter, in the heart of historic and literary Paris. This magnificent property reflects the elegance of the City of Light and offers an exceptional setting for a romantic getaway or an unforgettable business stay. After crossing the splendid Art Deco facade, you are welcomed into a universe of sophistication and charm. The decor of the Villa Romantic embodies classic Parisian aesthetics with modern touches. The walls are adorned with sumptuous fabrics, elegant paintings, and decorative mirrors, while the floors are covered with soft and comfortable carpets. The neutral colors and impeccable finishes create a soothing atmosphere, inviting guests to relax.
The furniture at the Villa Romantic hotel is equally impressive. Recently renovated, it has called upon Maison Collinet to furnish the rooms and common areas. You will therefore have the pleasure of experiencing the comfort of the SCALA chairs, with their tinted wood color and the Opera chairs, whose structure is made of beech wood. The designer furniture also includes ATILA armchairs, KAN armchairs, and ROBIN armchairs, with piped finishing and vertical stripe interior. But there is more. The hotel has also equipped itself with the MILANO desk, with its fil beechwood top and simulated leather inlaid desk pad. You can admire the MARIGNY headboards, with Louis XVI fluting and "pine cone" sculpture, before finding restful sleep among the high-quality sheets and plush pillows.
A luxury spa to recharge and rejuvenate
The wellness areas of the Villa Romantic hotel are designed to offer guests a complete relaxation experience. The hotel's spa is a true haven of peace, providing an escape from the hustle and bustle of the city and a chance to recharge in a sumptuous setting. It features a heated indoor pool and a jacuzzi, a sauna with a Himalayan salt wall, a steam room built in the purest respect of tradition, as well as a fitness room equipped with state-of-the-art equipment. The pool is the perfect place to relax and cool off after a day of exploring the city or to start the day gently with a few laps. Guests can also enjoy the sauna and steam room for a relaxing and regenerating experience. Villa Romantic also offers a complete range of beauty and wellness treatments such as relaxing massages, facials, and manicures, performed by qualified professionals. And if you thought you've seen it all, wait until you see the ice fountain.
A prestigious setting to discover Paris
The location of Villa Romantic makes it an ideal starting point for exploring the jewels of the French capital. The picturesque streets of the Latin Quarter are full of architectural treasures, authentic restaurants, and cafes. The hotel is located near many renowned sites, such as Notre-Dame Cathedral, the Pantheon, the National Museum of the Middle Ages, and the famous Rue Mouffetard market.
Practical Information:
Address:Lieu dit La croix Gautier, 61140 Juvigny Sous Andaine
Phone: +33 (0)2 33 37 80 69
Website: Villa romantic