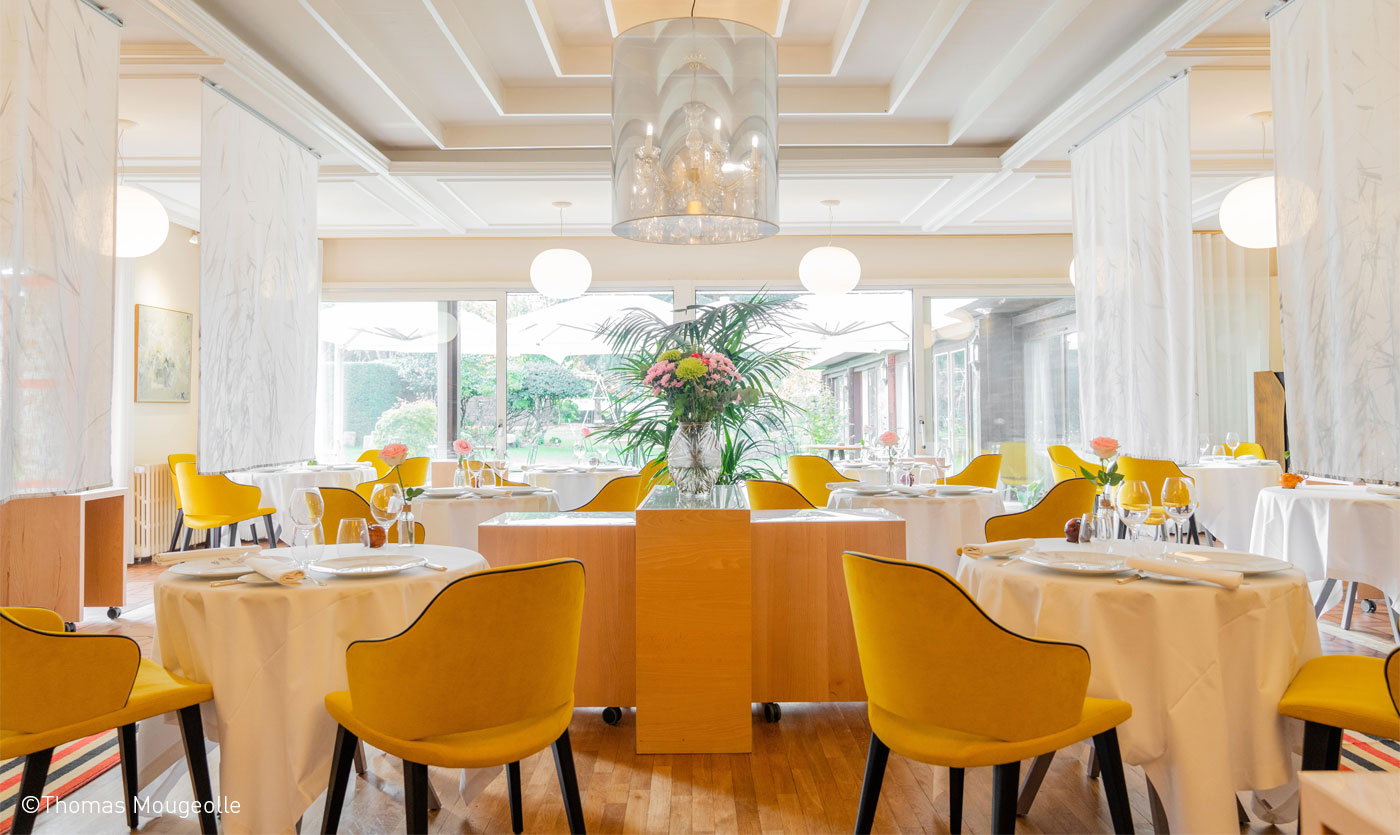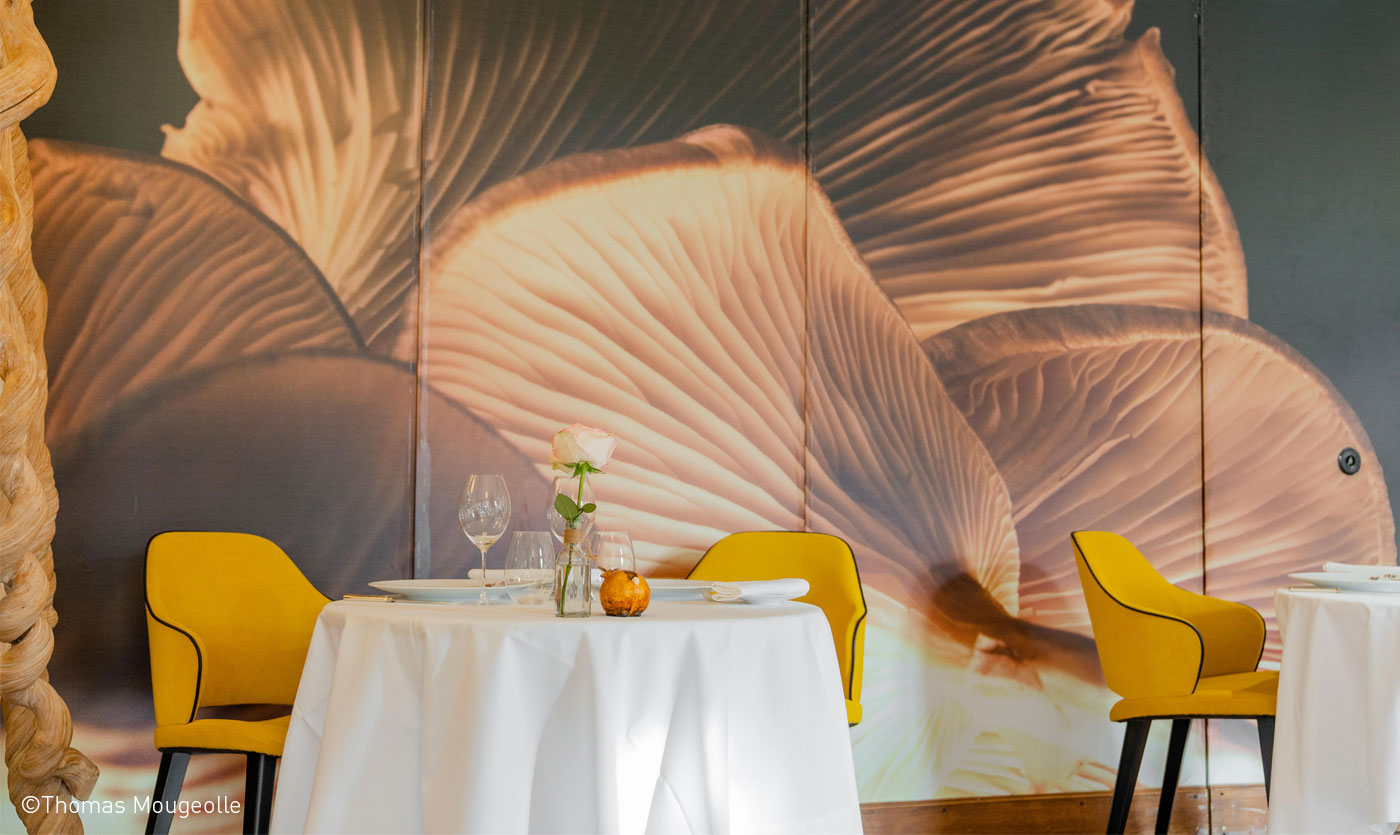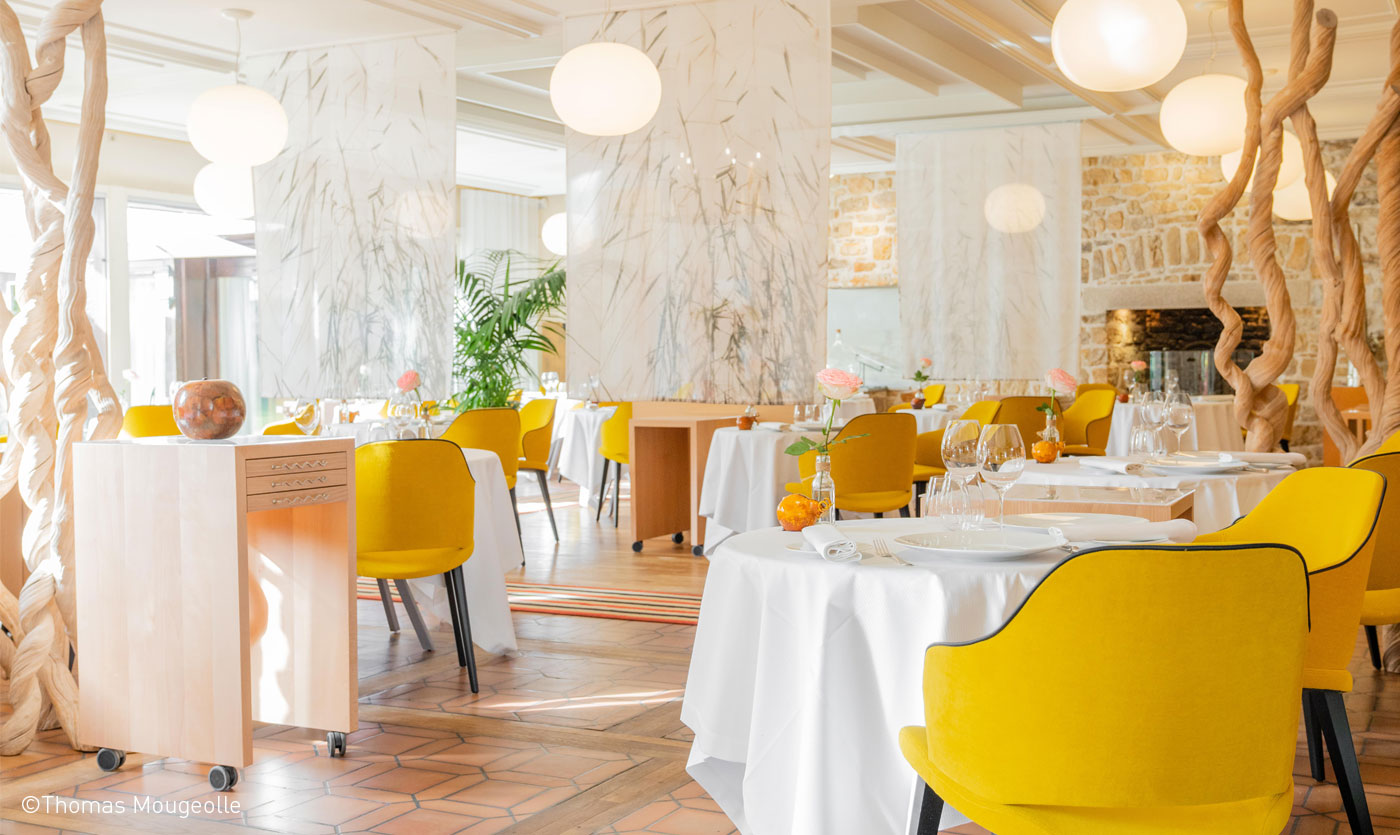 Collinet dresses up le Manoir du Lys: a gastronomic jewel
Apr 20, 2023
A gastronomy hotspot rewarded with a Michelin star
The Manoir du Lys restaurant, nestled in a green setting in the heart of Normandy, is a true gem of culinary art. The decor is sumptuous and refined, with stone walls and exposed wooden beams that bring an authentic touch to the whole. The designer furniture, on the other hand, is chosen with the utmost care, combining elegance and comfort. You will find, among other things, Nog armchairs in tinted beech wood with piping finishes and Gally sofas with walnut-colored wooden effect feet from Maison Collinet. The solid wood tables, adorned with fine tableware, invite you to taste an inventive and subtle gastronomic cuisine.
The restaurant at Manoir du Lys is an exceptional place where every detail is thought out to offer a unique culinary experience. Diners can savor carefully crafted dishes made with local products, respecting the seasons, while enjoying a warm and cozy atmosphere conducive to relaxation and escape. The Michelin-starred chef's motto remains, for 25 years: Nature et naturel.
Wine cellar and bar lounge of Manoir du Lys: a haven of exceptional tasting
The wine cellar and bar lounge of the Manoir du Lys are incomparable tasting spaces designed for connoisseurs of refined wines and spirits. In a warm and intimate setting, guests can settle comfortably and be guided by a carefully crafted selection of wines. The wine cellar is filled with oenological treasures from prestigious terroirs, selected from the finest French and foreign vintages. Wine enthusiasts can taste rare and exceptional wines, accompanied by the expert advice of the sommeliers of the Manoir du Lys. The bar lounge, on the other hand, is a privileged relaxation area. Guests can enjoy creative cocktails, renowned whiskies, and a selection of quality spirits, all in a setting where the inimitable touch of Italian plastic artist Aldo Paolucci is evident.
An ideal hotel for a stay or a special event
The hotel of the Manoir du Lys offers an enchanting setting for travelers seeking luxury and well-being. The spacious and elegant rooms are designed to offer absolute comfort in a warm atmosphere. Cozy beds, silky bed linen, and modern amenities ensure the most pleasant stay.
The venue also offers unique activities such as cooking workshops with its starred chef, mushroom picking, oenological discovery sessions with its renowned sommelier, food and wine pairing evenings, picnics, and it's also an idyllic setting for holding corporate seminars and providing participants with a breath of fresh air and delight.
Practical Information:
Address: Lieu dit La croix Gautier, 61140 Juvigny Sous Andaine
Phone: +33 (0)2 33 37 80 69
Website: Le Manoir du Lys