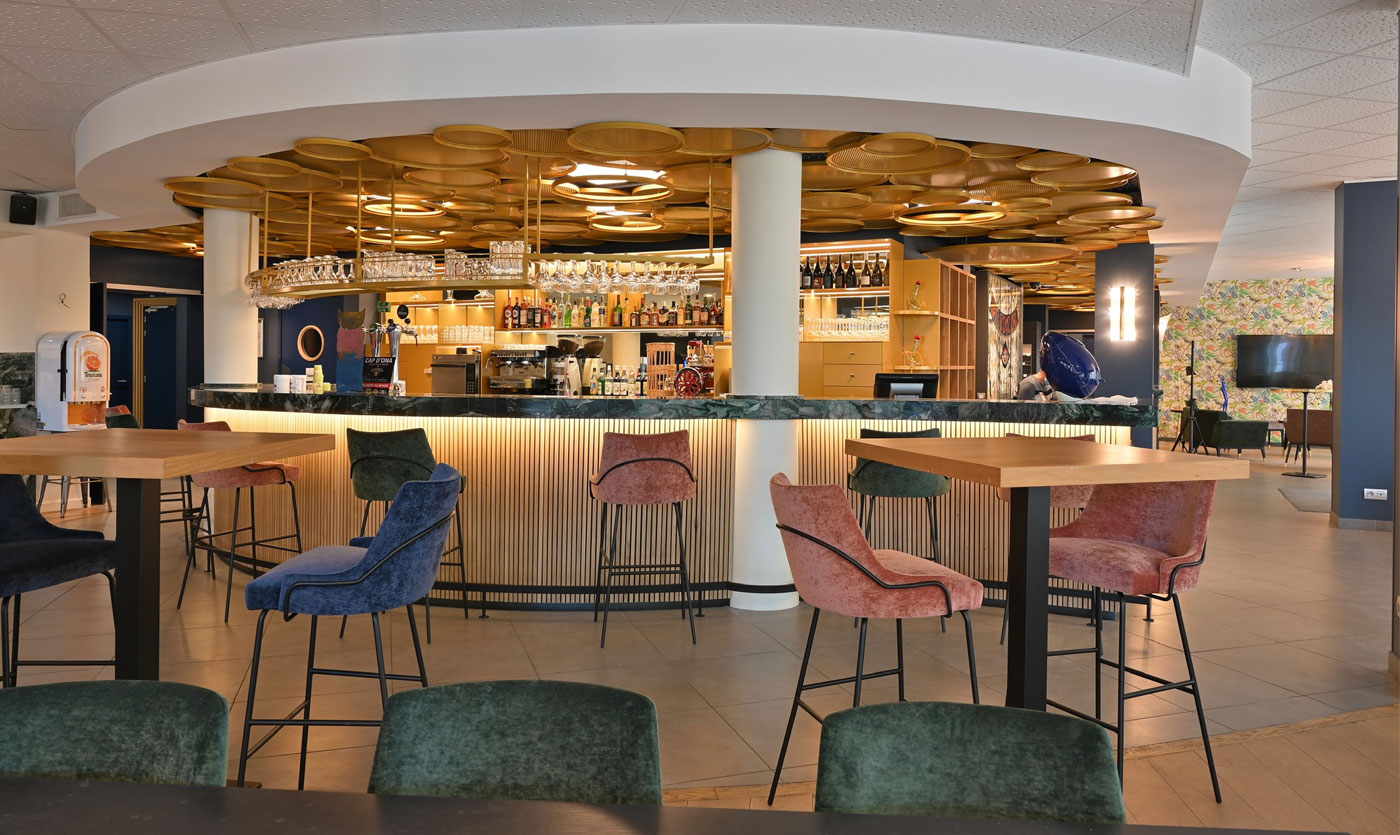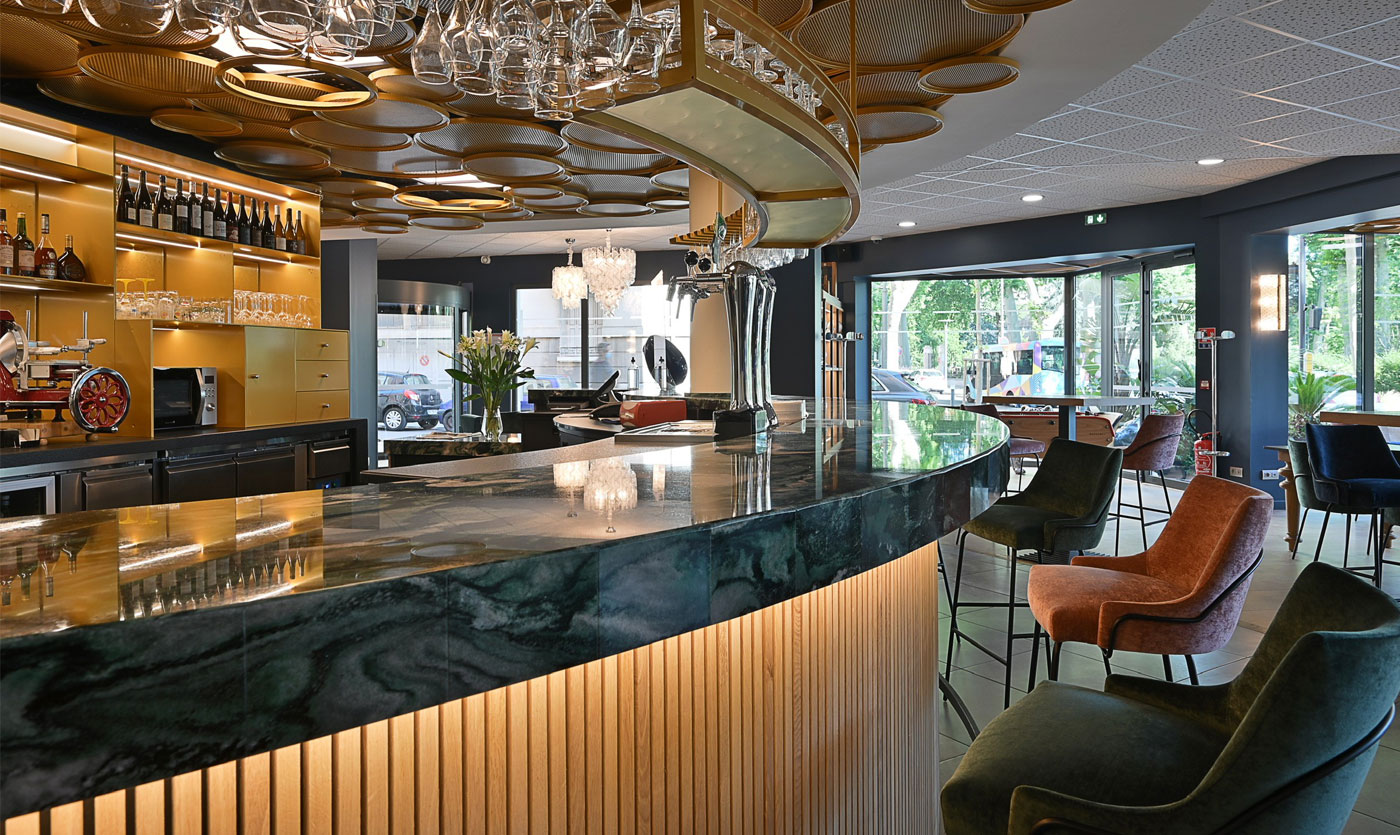 The Dali Hotel is renewing the furniture of its restaurant bar with Collinet
Sep 20, 2023
The Art of French Living at the Dali Hotel's Restaurant Bar
Located in the heart of the city of Perpignan, the restaurant bar of the Dali Hotel is an exceptional place where tradition and modernity blend together. The decoration, which harmoniously combines elements of Art Deco and contemporary style, is a true homage to the art of French living. The furniture, on the other hand, has been carefully selected for its quality and aesthetics. At the counter, you will find COSMOS stools with quilted finishes from Maison Collinet. And if you prefer to relax in the dining room, you can do so in Cosmos chairs with their beech wood structure and stained wood color. The Lounge bar offers the comfort of Milano meridienne with its daring design, and that of the FELIX bench, with its foam-filled seat. To complete the ensemble, decorator Marion Matigot has also selected Kan Armchairs, showcasing her confidence in the Collinet high quality furniture.
The walls adorned with hand-painted frescoes invite guests on an immersive journey into Salvador Dali's artistic universe. The subtlety of the colors and the finesse of the details bring a touch of poetry to the whole, which will appeal to art and aesthetic lovers. The restaurant menu is a true anthem to French gastronomy. The dishes, made from fresh and quality products, are sublimated by careful presentation and refined flavors. Regional specialties are honored, offering guests a true culinary discovery. The bar, on the other hand, offers a selection of exclusive cocktails created by talented mixologists. Wine enthusiasts can also find their happiness with a carefully selected quality wine list.
In short, the restaurant bar of the Dali Hotel is a choice place for epicureans in search of a unique and unforgettable culinary experience. The charm of the decoration, the comfort of the furniture, the quality of the menu, and the cozy atmosphere make it a place where an intimate and relaxing ambiance reigns.
Let yourself be lulled by the charm and comfort of the Dali Hotel
Whether you are on a family getaway or a business trip, the Dali Hotel offers 115 spacious, comfortable, and modern rooms tastefully decorated to guarantee an unforgettable stay. They are equipped with all the necessary amenities: air conditioning, a flat-screen satellite TV and free Wi-Fi. The comfortable beds and high-end bedding contribute to a restful night's sleep after a long day of sightseeing or leisure.
The exceptional establishment overlooks the tree-lined park of Square Bir Hakeim, offering a pleasant and soothing view. It is located a stone's throw from the Palais des Congrès and close to prestigious historical monuments such as the Castillet or the Saint-Jean-Baptiste Cathedral, immersing you in Catalan history and culture. For optimum comfort, the Dali Hotel offers a superb rooftop terrace, a fitness room, and seven rooms suitable for professional and private events.
Decorator: Marion MATIGOT
Practical Information:
Address: 18 Boulevard Jean Bourrat, 66000 Perpignan
Phone: +33 (0)2 33 37 80 69
Website: Hotel Dali