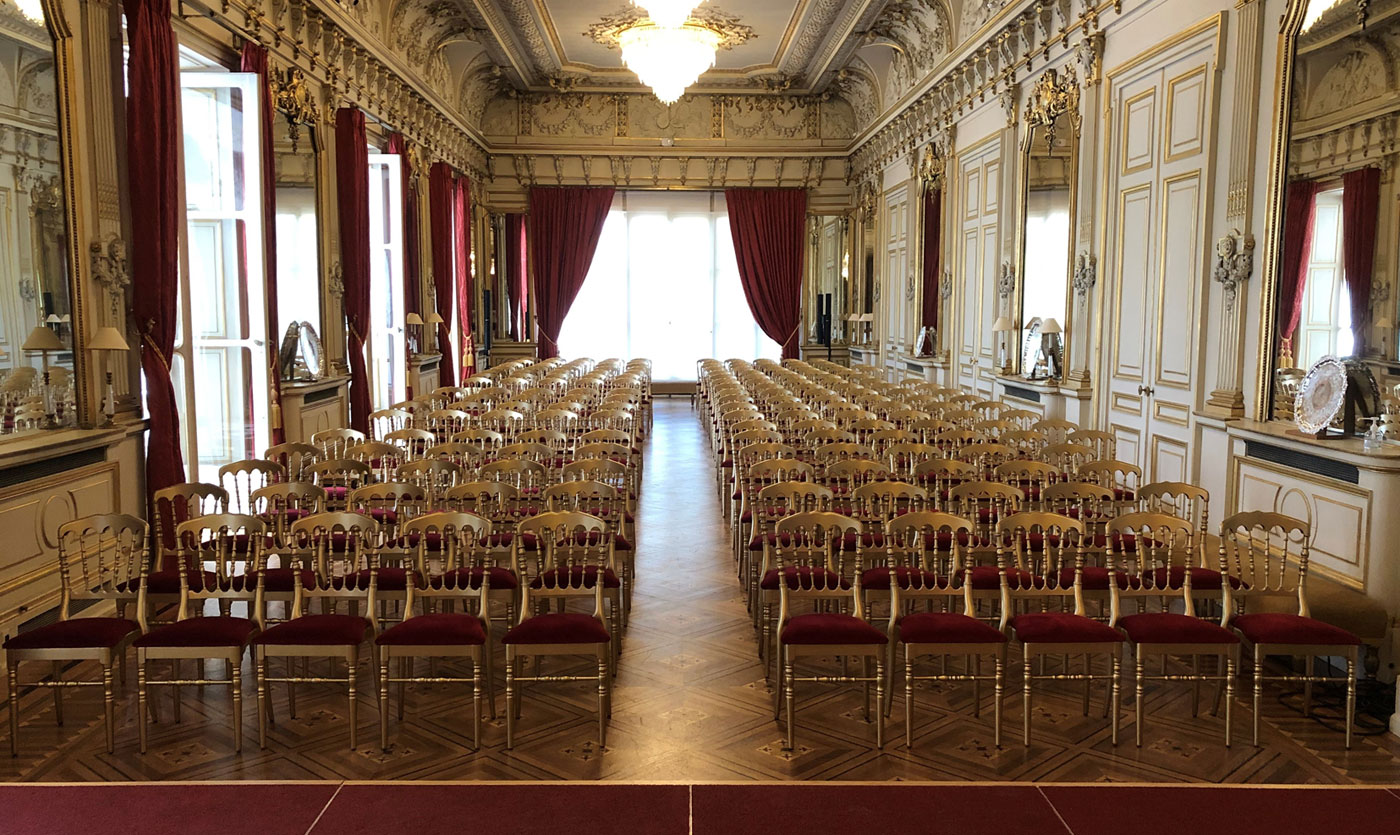 The reception room of the British Embassy sublimated by Collinet furniture
May 23, 2023
A refined setting for diplomatic receptions at the British Embassy
The British Embassy in Paris is an iconic building located in the 8th arrondissement, offering a majestic and imposing setting. The architecture of the building reflects a neoclassical style, with elegant facades and carefully crafted ornaments. The interior decoration is equally impressive with a subtle blend of classic and contemporary styles. Recently, the reception room has been renovated with furniture from Maison Collinet, including Napoleon III chairs, which were chosen for the elegance of their simplified moldings and their comfort. They bring an additional touch of refinement and blend perfectly with the classic aesthetic of the embassy.
The entire building is a tribute to British history and culture, with works of art and decorative objects displayed in the lounges and corridors. Visitors can also admire the magnificent library, which houses a collection of historical books and documents. The atmosphere is warm and welcoming, with particular attention to detail to create an atmosphere of grandeur and prestige. It is a place that embodies British tradition and elegance, while being imbued with a Parisian atmosphere. It is an architectural gem that offers an unforgettable experience.
A prestigious neighborhood for the British Embassy
The neighborhood of the British Embassy is one of the most prestigious and elegant in Paris. The 8th arrondissement is renowned for its imposing Haussmannian buildings, tree-lined avenues, luxury shops, and gourmet restaurants. It is an iconic place of the art of French living, where you can stroll while admiring the facades adorned with wrought iron balconies and beautiful paved squares. Many historical monuments are also located in this neighborhood: the Arc de Triomphe, Place de la Concorde, and the Grand Palais. It is an essential place for lovers of culture, history, and high-end shopping.
Practical Information:
Address: 39 rue du Faubourg Saint Honoré 75008 Paris
Phone: +33 (0) 1 44 51 31 00 / +44 20 7008 5000
Website: Embassy of Great Britain