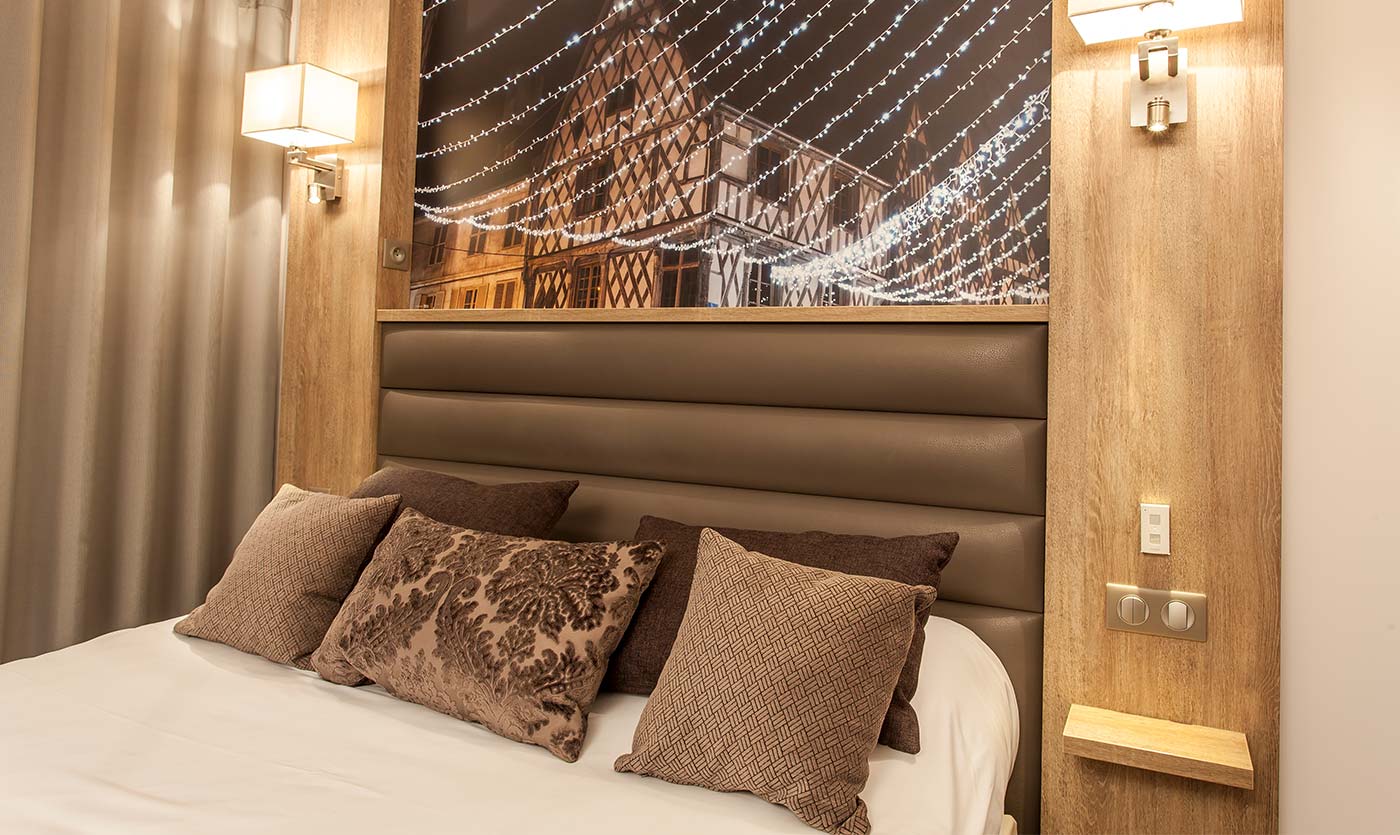 Charm and design in the heart of Bourges
Feb 28, 2019
In the Cher department in the center of France, the city of Bourges has been the home of the Le Christina hotel for over thirty years. Situated in the Halle aux blés neighborhood, a name that is a reminder of the rural culture of this beautiful city, the hotel Le Christina and the city of Bourges itself are a must-see for all those who love the rich and varied French heritage. Bourges has been rewarded with the certification label "Art et Histoire" (art and history), thanks to its splendid history and living environment.
Le Christina, with its 3 stars, is a modern and chic hotel and the perfect way to enjoy the many graces of Bourges thanks to its closeness to the city center. This family-owned hotel is a jewel of design and elegance from the lobby to the 64 rooms, renovated to a high standard this past year. The elegant Collinet Charme headboards add a touch of grandeur and comfort to the rooms with their center padded board. The soft angles of the bedside tables and their adjoining wooden panels complete the headboard with elegance. The Charme hotel desks provide the rooms with a modern and practical touch with a high end finish.
At Le Christina hotel, comfort is the main concern, which is why the Louis XVI Medallion bridge chairs and chairs have been selected to furnish the rooms. With their solid beech wood frame and their elegantly upholstered cushions, the Louis XVI range of chairs add a historical touch to the hotel rooms with their harmonious finishing touches, combining tradition and modernity with the utmost elegance. Just like the city of Bourges, the rich historical heritage of which can only be rivaled by the lavishness of the current cultural life!
Rendez-vous in Bourges to discover all of its merveilles and for a chic stopover at the hotel Le Christina to enjoy the Collinet furniture with which the rooms were renovated!
Practical Information:

Address:
5 rue de la Halle
18000 Bourges
FRANCE

Website: Hotel Le Christina