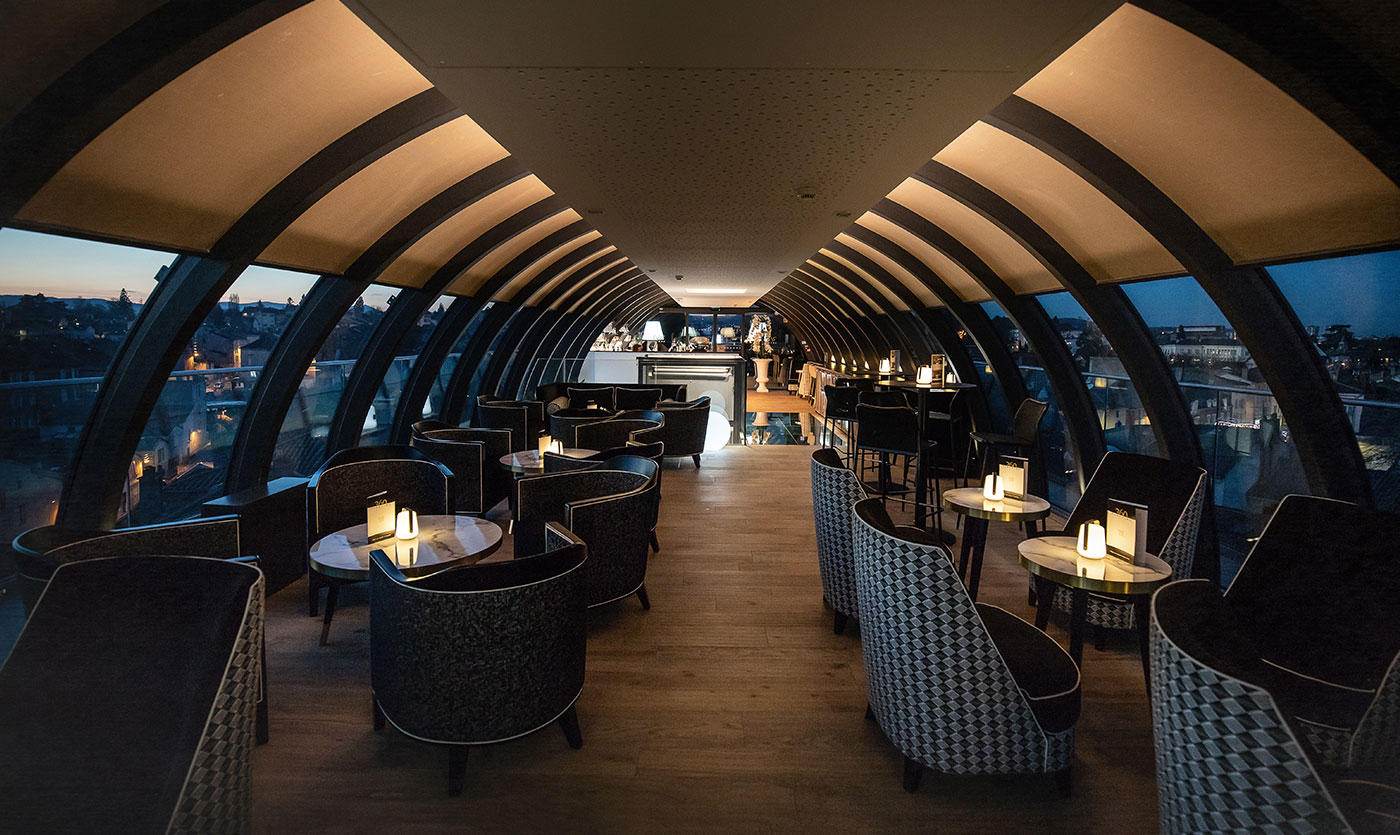 The Panorama 360 hotel lets you enjoy the rooftops of Mâcon
Jul 25, 2019
The 4 star hotel Panorama 360 looks like a French Château, with its beautiful entrance and intricate wall decors, and its amazing rooftop terrace where you can enjoy a drink on a warm summer evening. This establishment is the perfect place for a relaxing stay in the beautiful Burgundian city of Mâcon. Thanks to careful renovations, the facade of the hotel, over one hundred years-old, has kept its original charm, while the interior of the hotel has been arranged to include all the modern fixtures, creating an exceptional interior fit to seduce even the most demanding clients. Upon entering, a modern charm and an understated luxury combine to create a superb atmosphere that will surely seduce you. The red and black contrast of the Factory slipper chairs adds a delicate touch to the reception with their curves and their comfortable seats. The sleek design of the Claude Robin slipper chairs for hotels adds a modern touch to the place, for a perfect balance between a contemporary style and a comfortable interior. This subtle interior decor was created by the architect firm Innove Design and Carol Merite.
World renowned for the quality of its lodgings and much more, the establishment attracts new visitors as well as regular customers who like to enjoy a drink high up on the sunroof. Indeed, the establishment is well named, as its rooftop terrace offers an unobstructed view of Mâcon, allowing guests to enjoy the beauty of the sun setting on the roofs of the city. Under the patio, the carefully crafted ambiance allows you to cozy up for a perfect moment. Inside, the dining room of the restaurant boasts a lighter and brighter decor, with soft greys and delicate whites that envelop the Opéra chairs.
Established in the old General Post Office of Mâcon, this 6-stories, exceptional establishment offers a wide array of equipments: a pool, spa, hammam, sauna, as well as a gym and massage parlor. With 69 rooms and 11 suites of grand standing, each can chose the level of comfort that they design. Come and discover the timeless charm of this establishment for your next getaway in the city of Mâcon!
Photograph: Ecko Media
Practical Information:
Address:
4 Rue Paul Gateaud
71000 Mâcon
Phone number: +33 (0)3 85 50 20 42
Wesbite: Panorama 360 Hotel