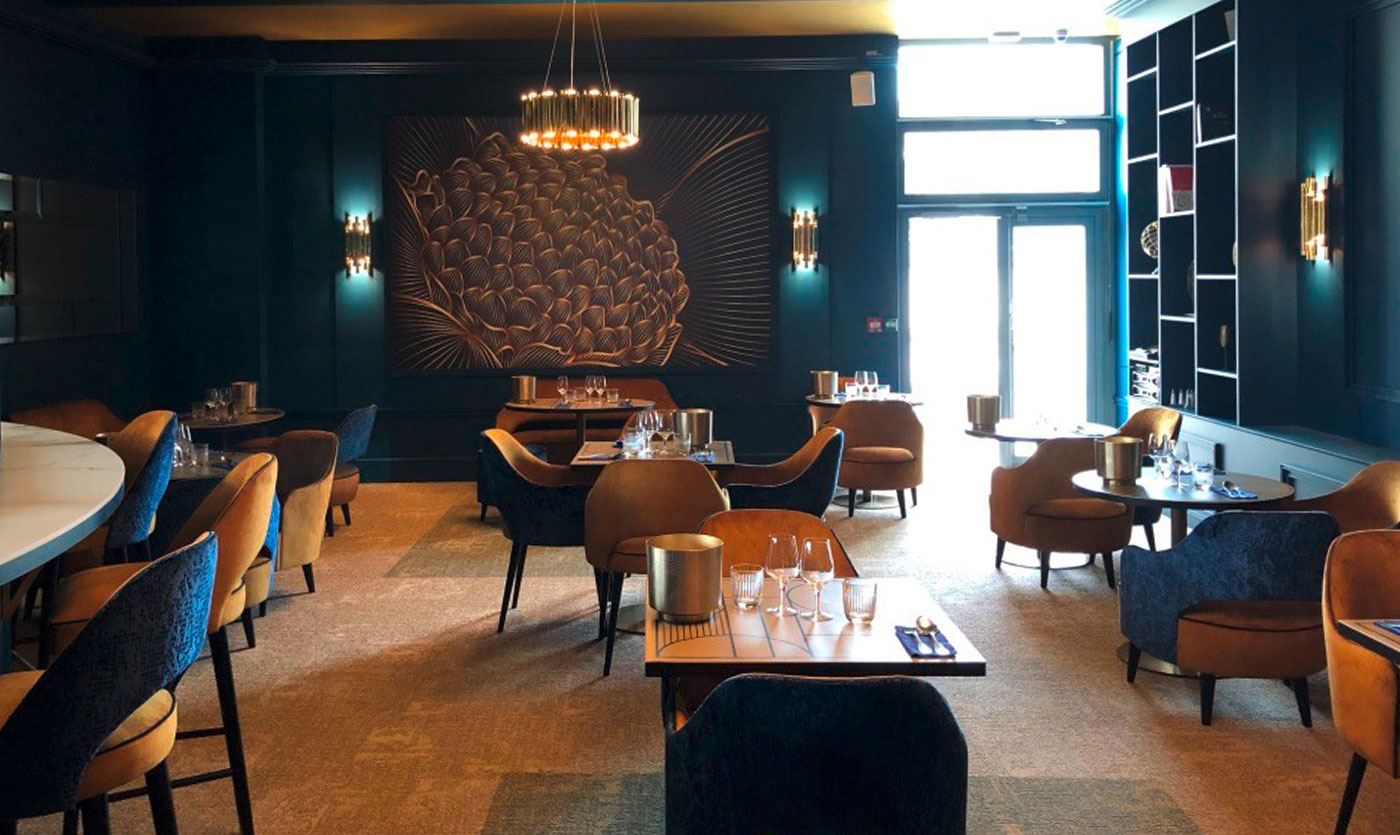 COLLINET PARTNERS WITH THE RESTAURANT MARIUS IN PORNIC
Nov 30, 2021
THIS BEAUTIFUL ESTABLISHMENT IS A SIGHT TO BEHOLD
Bars, terrace, tearoom and brasserie, this multifaceted establishment knows to adapt to every demand. The rooftop provides an exceptional view of the city's castle. The facade creates a maritime atmosphere, with its lighthouse-shaped columns and its ironwork that adorn the terraces and balconies. Adhering to an eco-responsible ethos, the restaurant Marius displays a menu based on fresh and seasonal products, often organic and cultivated in the region. The establishment mixes traditional local cuisine enhanced by a touch of originality and refinement.
THE COLLINET FURNITURE FITS PERFECTLY IN A DÉCOR PAYING TRIBUTE TO THE ROARING TWENTIES
Recently renovated, the Marius restaurant has called on the expertise of Maison Collinet to embellish the decoration of this unique establishment. Interior designer Sandra Troffigué has created a decor freely inspired by the Roaring Twenties. Exhibiting tones of blue, beige and gold, this elegant and thoughtful décor conveys a feeling of well-being and relaxation. The Collinet furniture fits perfectly in this Années Folles setting. In this respect, the different pieces of the Scala collection convey a feeling of warmth and sharing. Armchair, stool, bar chair, ottoman or sofa, the Scala collection sublimates the space like no other.
The restaurant Marius goes beyond offers its guests multiple services: catering, seminar, the dancing teas of Marius restaurant are a staple of Pornic's cultural life. The panoramic terrace is the perfect spot to enjoy the spectacular setting sun of the Bretagne region, or musical performances. Many other activities are available: cooking workshops, children's play area, library, etc. If, by any chance, you are passing through the Bretagne region, do not hesitate to book a table at this magnificent establishment.
Photograph : Manuella Aubin
Interior designer : Sandra Troffigué
Coordinates :
Adress: 50 Quai Leray, 44210 Pornic
Phone number: +33 (0)2 51 18 18 00
Website: Le Marius restaurant>