Kyriad Plage Saint-Malo
Back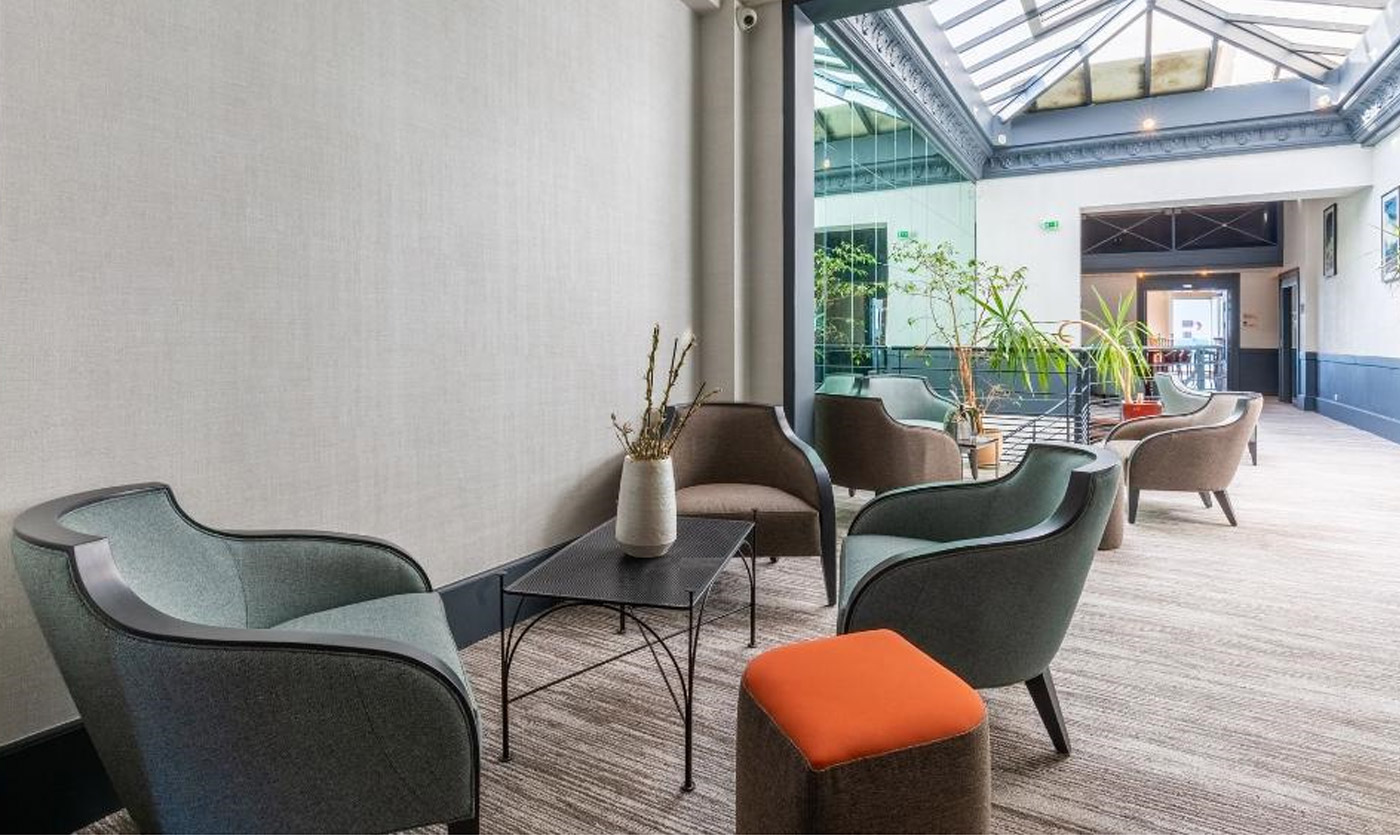 Collinet furniture has been invited at the Kyriad beach Saint-Malo, with a sea view
Oct 28, 2020
Rainy or shiny, and no matter what the Bretons say, it's likely to happen; you must visit Saint-Malo, its ramparts and its view of the English Channel, in the heart of the magnificent Emerald Coast. For professionals or tourists who wish to enjoy a sea view a few steps away from the city, the Kyriad plage Saint Malo is the perfect venue. A hotel whose view is far from being the only asset, since its ergonomic interior design with pure lines will seduce you from the reception desk to the bedrooms, in the choice of furniture as well as in the decoration.
The Sophie Genu architecture firm was asked to renovate, fit out and furnish the interior spaces of the lounge and dining room, which welcome you in a contemporary and warm atmosphere. On the lounge side, a glass roof illuminates the lounge area. Around the coffee tables, Hotte armchairs with their solid wood structure, and Tear pouffes for extra seating, offer you a moment of relaxation or exchange. The know-how of Maison Collinet, specialist in professional furniture and its wide range of French-made furniture, once again makes all the difference with its quality furniture ranges. For the breakfast room, the interior architect has worked on a layout with pure lines of design and functional room furniture, neutral colors for tables and chairs, which enhance the sea view. The lighting fixtures, with their original and contemporary design, become real decorative objects. They thereby testify to the attention of the interior architect right down to the finishing touches. Behind the bay windows that let you enjoy an exceptional view from breakfast, the outdoor furniture will welcome you on the terraces, if the weather allows it of course. As for the bedrooms, your space is composed with the same attention given to the furnishings, here again the choice of design furniture combines practicality and charm, design furniture, office furniture, shelves, cupboards and sufficient storage... All the necessary amenities for your stay.
Can you imagine it? The warm and contemporary atmosphere, which every furniture, down to the smallest stool, contributes to enhance. At Kyriad plage Saint-Malo, you will enjoy Breton hospitality. All the interior furniture carefully selected by the designers contributes to sublime this historic hotel building, the work of early 19th century architects, in a contemporary style.