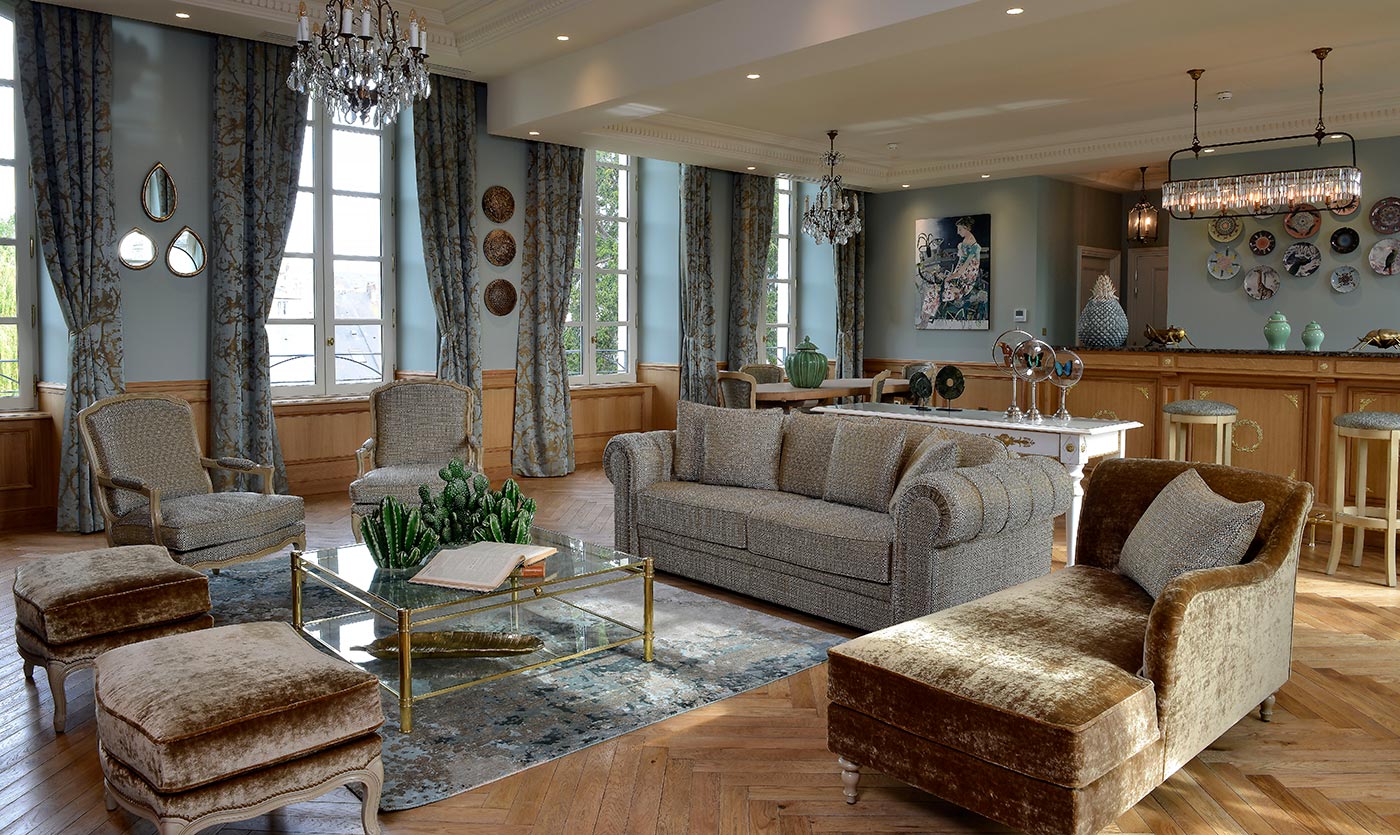 Collinet furnishes the Hotel Villa Augustine with comfort and elegance
Oct 10, 2019
With its cobbled streets and half-timbered houses, Bayeux looks like a postcard landscape: a sumptuous Normand Gothic cathedral attracts several thousand of visitors every year, coming to admire the famous tapestry of Bayeux, created in the eleventh century. Facing the imposing doors of this listed monument, the Villa Augustine hotel welcomes you all year round in its warm and distinguished atmosphere. This establishment is the ideal starting point to enjoy a stay in the historic charm of the Normand territory. Between countryside and beach, the city has many places not to be missed, that the reception staff of Villa Augustine will be happy to guide you through.
In the heart of the historic centre of Bayeux in Normandy, Villa Augustine takes you into a refined atmosphere with traditional decoration, blending old with modern styles, for a sophisticated and welcoming ambiance. Among the best luxury establishments in the world, the Luxury Boutique Hotel earns an outstanding performance, due to the detail oriented special care. Warm and discreet, the exceptional customer service grants the establishment a value acknowledged by the whole field.
The traditionally styled rooms feature a tasteful historical style. Spacious and comfortable, the rooms invite you to a moment of peace and relaxation. You will sometimes come across a quirky detail, like these cameo-like sheep portraits that will not fail to make you smile. Matched to the style of the rooms, and seeming to come straight out of castles of yore, the Louis XV armchairs created by Collinet sublimate the space with the high-end aesthetics.
Whether you are passionate about history or fond of elegance, a stay at Villa Augustine will without a doubt make your experience unforgettable!
Practical information:
Address:
6, place du Québec
14400 Bayeux
Phone number: +33 2 31 92 00 55
Website: Villa Augustine