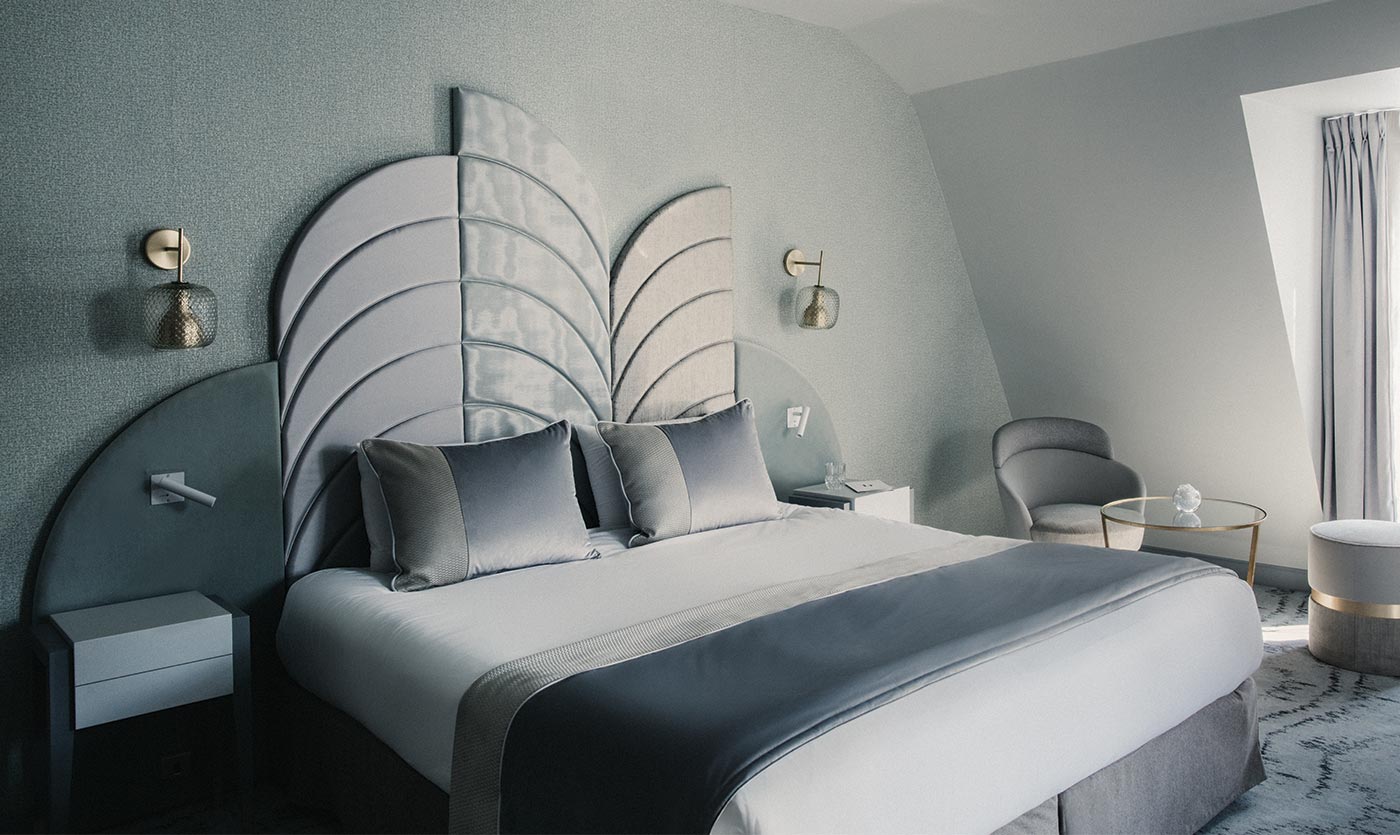 Collinet furnishes the Derby Alma Hotel
Sep 10, 2019
Majestic and truly representative of the City of Lights, the 7th arrondissement of Paris was the perfect place for the Derby Alma hotel (Inwood Group). Just a short walk away from the most famous monuments of Paris, from the Eiffel Tower to the Trocadéro, this 4 star establishment will surprise you as soon as you walk in, thanks to its refined atmopshere and the way that light has been integrated into the interior decoration. Let yourself be captured by the delicate harmony of the place, in the beautiful lobby with its magnificent furniture. A true homage to the greatest Haute Couture fashion houses, the Derby Alma hotel has taken inspiration from Parisian chic to create beautiful common spaces, with a touch of modernity that adds an extra flair to this unique establishment.
Both grandiose and full of warmth, the Derby Alma is the perfect representation of the French capital and all its charm. Inside, every little detail of the architecture has been thought out carefully to transport the visitors into another time. Luxury and refinement are the two pillars of this establishment, with its quiet and comfortable rooms. Created to bring the highest level of comfort to all guests, the rooms are inspired by the Art Nouveau movement with elegantly embellished headboards and fine fabrics. Created by Collinet, Candide armchairs are upholstered in warm colors and offer the most comfortable of seats, while Ring pouffes welcome you by the dressing tables where you can enjoy a moment just for you.
During your stay at the Derby Alma, you will be able to choose between three types or rooms: executive, classic or connected rooms. And, for an unforgettable experience, you can choose a Junior or family suite, or even the Penthouse suite with a view of the Eiffel Tower! In a delicate and refined atmosphere, you will enjoy a marvelous experience in one of the most charming and high class hotels in Paris.
Architect/Interior Designer: Oscar Lucien - Maison Numéro 20
Practical information:
Address:
8, Avenue Rapp
75007 Paris
FRANCE
Phone number: +33 1 44 18 77 77
Website: Derby Alma Hotel