Courtyard Wiesbaden-Nordenstadt
Back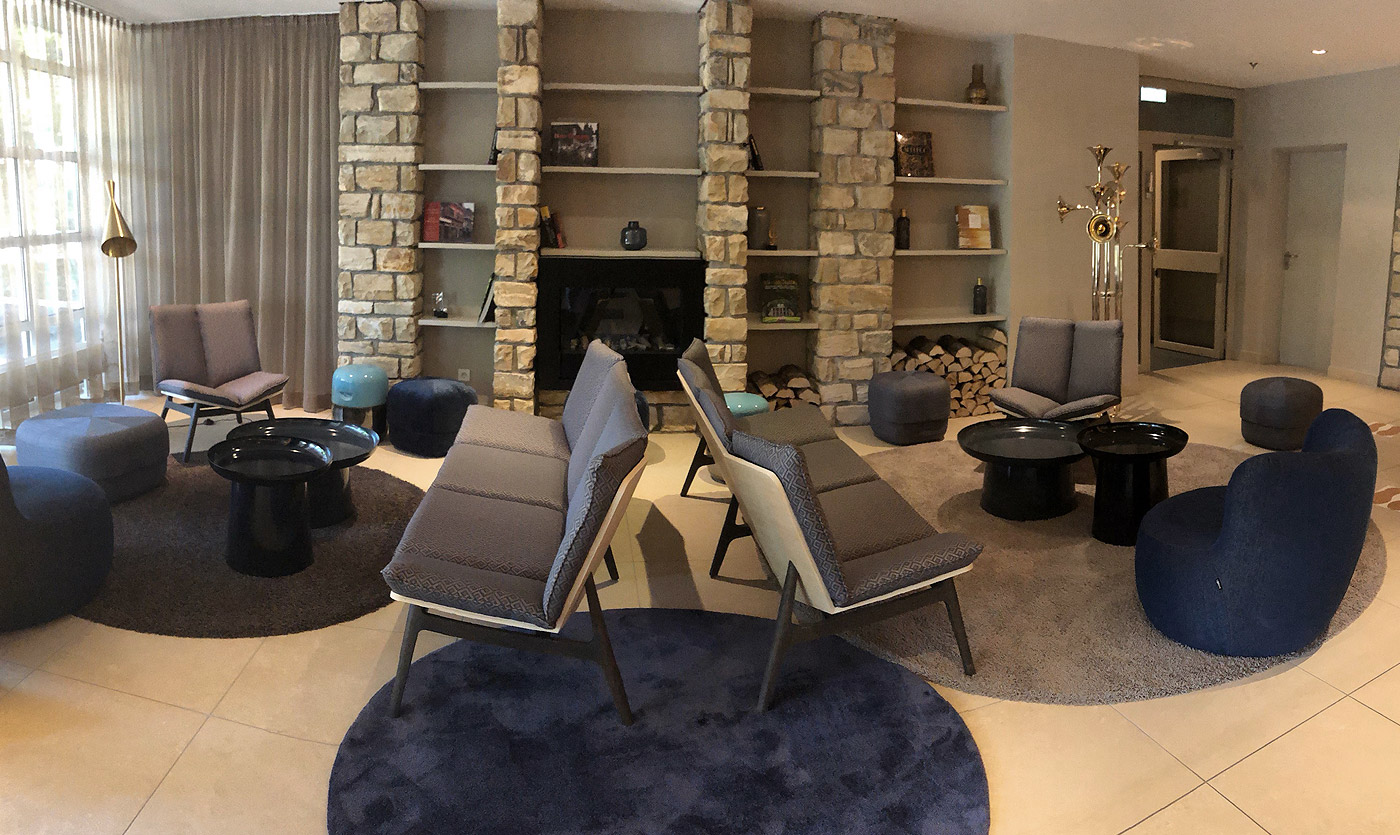 Collinet abroad: discover the Mariott Wiesbaden-Nordenstadt
Nov 24, 2020
You don't need to speak German to enjoy the charm of Wiesbaden, nicknamed the "Nizza North" city, its surprisingly mild climate and its thermal baths. We recommend that you settle down at the Mariott Wiesbaden-Nordenstadt hotel. This sumptuous hotel welcomes you to a contemporary universe that can be felt in each of its spaces.
From the lobby, you will find in a cosy lounge area, the furniture of your professional furniture specialist, Collinet. You will easily recognize the solid wood structures and the original and contemporary colors that are part of the guarantee of quality furniture and French manufacture of the brand. These are probably the reasons why the interior architect of the Frankfurt firm Vrai Interior Design asked Collinet to furnish this part of the hotel. Hence he was able to choose from the wide range of interior furnishings offered by the furniture manufacturer. Thus, around the coffee tables and side seats are arranged sofas and armchairs from the Poznan range, with their oak structure with a contemporary design and easily recognizable finishes. The architects seem to have thought about the layout of this space to invite relaxation; right down to the shelves filled with natural wood that frame the fireplace and the choice of lighting fixtures, real decorative objects.
The furnishing of Courtyard by Mariott Wiesbaden-Nordenstadt has many other surprises in store for you, since all the furniture in the establishment is made up of designer furniture. For example, in the breakfast room, the dining furniture is lacquered to perfect the decor. In the bar-restaurant, the lounge furniture is composed of tables, chairs, benches and stools selected with the same concern for consistency of coverings and colors. On the terraces, the furnishings show the same concern for practicality and design, and you can only appreciate the comfort of the outdoor furniture.
The hotel also offers many work spaces for professionals and here again, the selection of furniture allows for a functional and ergonomic space. The layout of the hotel section is no exception and you will find contemporary furniture with clean lines in your space. On the practical side, the layout of your space will offer you all the storage, drawers, cabinets, shelves, and even office furniture you may need.
Thus, everywhere at the Mariott Wiesbaden, the choice of designer furniture allows you to create a truly luxurious atmosphere with a contemporary style, consistent with the sumptuous establishment. The interior and exterior furniture will immerse you in this universe and you will recognize the talent of the designers and the attention paid to the design of each space.