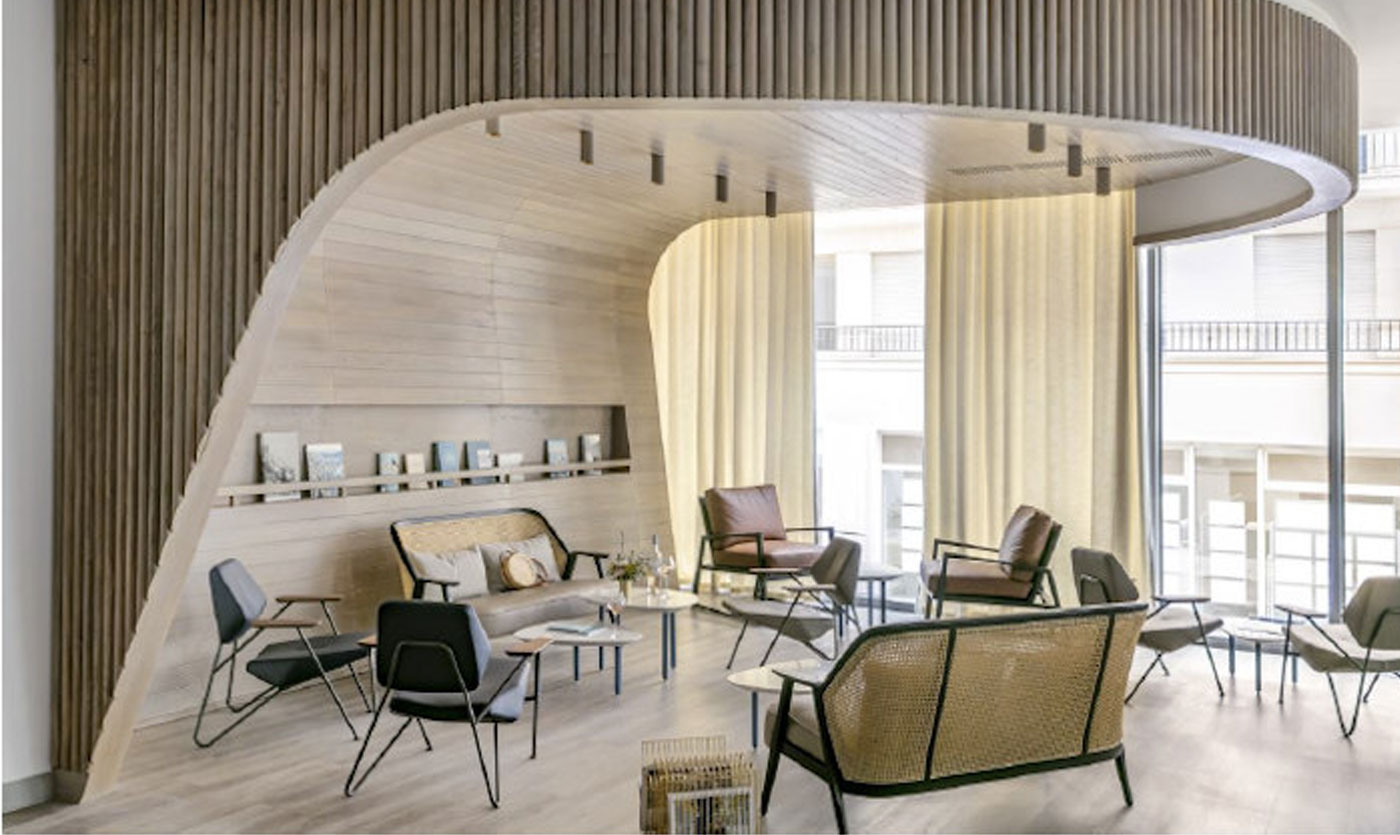 OKKO HOTELS chooses Collinet to reinvent the hotel industry in Toulon
Feb 18, 2021
When you arrive in Toulon, around the train station and Place de la Liberté, you will discover a new kind of hotelier: OKKO Hotels!
The 4-star OKKO HOTELS Toulon Centre is committed to revolutionize the contemporary hotel industry, especially considering carbon footprint. This desire to shake up established codes can be seen in the reception hall, where the motto of OKKO establishments: "Comme chez vous" ("As you were at home") takes on its full meaning. Beyond its contemporary and ergonomic style, it is a real cozy and warm atmosphere that welcomes you through its various amenities.
OKKO HOTELS TAKES A NEW SKIN FOR ITS HOTEL DEVELOPMENT
From the lobby, you can admire the renovation and interior design work undertaken in January 2020 by Studio Catoir.
Coffee tables, benches, chairs and armchairs have all been selected by the designers to furnish the interior with a neat layout. The result is lounge and full of modernity, corresponding to the latest trends.
All the interior furniture has been chosen to create a beautiful harmony between the maritime colors of the walls and the natural wood.
A relaxation area, or a working space for professionals, the different parts of the lobby are as welcoming as they are aesthetic. Among the selection of high-end furniture from the interior designers of Studio Catoir, you will recognize the craftsmanship of your professional furniture specialist Collinet through the designer furniture chosen from its wide range of contemporary style furniture.
THE ART OF SITTING ON COLLINET AT THE OKKO HOTELS
To get comfortable, enjoy the incomparable seats of the London armchairs and their solid wood structure. Their cushions, available in various colors, promise you an unforgettable moment of relaxation.
They are associated to Kan sofas, with their beech structure and their neat finishes, signature of your manufacturer of quality "made in France" furniture.
From contemporary furniture arrangements to lighting, true decorative objects in their own right, the designer has created a warm universe in this interior space.
Contemporary design with clean lines but always functional, service of impeccable quality, OKKO HOTELS keeps all its promises! All you have to do is plan a trip to Toulon to make the most of your "At home" space.